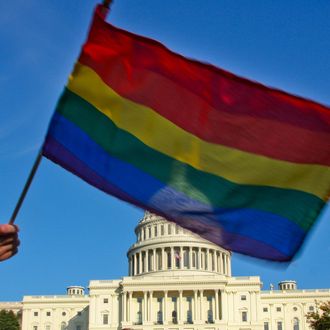 Now the GOP Congress just needs to catch up.
Photo: MARIA BELEN PEREZ GABILONDO/2009 AFP
A memo written by GOP pollster Jan van Lohuizen, who worked for George W. Bush's 2004 campaign, has been making the rounds this morning, and it features some common sense advice for his party: Join Obama in evolving on same-sex marriage, or risk marginalization. First, he says, same-sex marriage supporters already outnumber opponents by roughly 10 percent, plus a majority of Republicans favor hate crimes protections for gays and the repeal of Don't Ask Don't Tell, as well as domestic partnerships.
While more Democrats support gay marriage than Republicans, support levels among Republicans are increasing over time. The same is true of age: younger people support same sex marriage more often than older people, but the trends show that all age groups are rethinking their position.
Lohuizen is warning Republicans here of something that the rest of us figured out ages ago: that the more conservative older white cohort is slowly being supplanted by a younger, more non-white, and more liberal group. As Sullivan sees it, Lohuizen is "advising [GOP candidates and operatives] in no uncertain terms that they need to evolve and fast, if they're not going to damage their brand for an entire generation." Below, the memo's conclusion (emphasis added.)
As people who promote personal responsibility, family values, commitment and stability, and emphasize freedom and limited government we have to recognize that freedom means freedom for everyone. This includes the freedom to decide how you live and to enter into relationships of your choosing, the freedom to live without excessive interference of the regulatory force of government.
Finally, the social libertarian edge of the Republican Party faces off against the social conservative core.