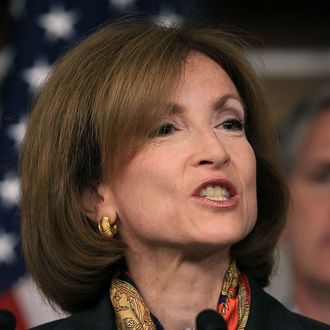 Hayworth.
Photo: Mark Wilson/2011 Getty Images
Jay Townsend is a spokesman for Nan Hayworth, a freshman Republican congresswoman from Mount Kisco who, though she ran for office under the tea party's banner, is relatively moderate on social issues.  While the congresswoman is personally pro-choice, she's come under fire for her belief that organizations like Planned Parenthood shouldn't get federal dollars. It's a combination of views that manages to alienate both the left and the right, making women's issues a particularly thorny area for Hayworth. Still, that doesn't explain why  Townsend flew off the handle in a Facebook discussion for Hayworth's constituents, meant to be a "civil multi-partisan discussion," per the official description. Talking Points Memo:
Listen to Tom. What a little bee he has in his bonnet. Buzz Buzz. My question today … when is Tommy boy going to weigh in on all the Lilly Ledbetter hypocrites who claim to be fighting the War on Women? Let's hurl some acid at those female democratic Senators who won't abide the mandates they want to impose on the private sector.
Tom's question, by the way, was about gas prices.
Hayworth's office has yet to issue official comment on Townsend's violent outburst.
Related: Nan Hayworth: The Tea Party's Woman in New York