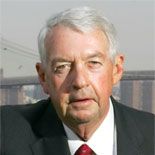 Photo: Courtesy of Brooklyn DA.
Last month the Jewish Daily Forward reported that Brooklyn D.A. Charles Hynes was keeping the names of ultra-Orthodox Jews charged with, and even convicted of, sex crimes secret because of the "very tight-knit and insular" nature of the community. Victims' rights groups believe that such protections endanger children and encourage a culture of cover-ups that has long persisted among Hasidic Jews, as detailed in this 2006 New York story by Robert Kolker. Now the New York Times is following up with their own series on sexual abuse in Brooklyn's ultra-Orthodox neighborhoods, and Hynes does not come out looking good.
Late last year, Hynes touted the success of his Kol Tzedek ("Voice of Justice") campaign meant to "ensure safety in the community and to fully support those affected by abuse," while also being sensitive to the Hasidic culture. But the Times reports today that Hynes's numbers are "inflated":
Through an extensive search of court and other public records, The Times determined the names of suspects and other details in 47 of the 95 cases attributed to the Kol Tzedek program. More than half of the 47 seemed to have little to do with the program, according to the court records and interviews.

Some did not involve ultra-Orthodox victims, which the program is specifically intended to help. More than one-third involved arrests before the program began, as early as 2007. Many came in through standard reporting channels, like calls to the police.
Evidence that the D.A. is beholden to powerful religious interests can be seen in light sentences for admitted abusers and the withholding of their names, with Hynes "essentially allowing rabbis to act as gatekeepers." In the words of one expert, "That's exactly what the Catholic Church did, what the Latter-day Saints did, what the Jehovah's Witnesses did."
"There is no nice way of saying it," said the mother of one victim in yesterday's Times installment. "Our community protects molesters. Other than that, we are wonderful."