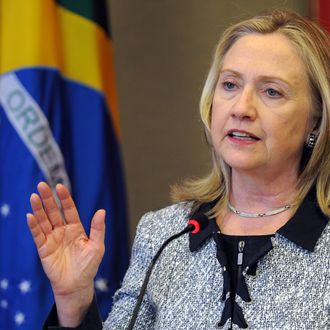 Stop right there, Jason.
Photo: EVARISTO SA/2012 AFP
Hillary Clinton's coolness offensive continues apace: After swilling beer and dancing on a South American jaunt and responding good-humoredly to an Internet meme about her, now she's out-charming a charming actor. Jason Segel, one of the stars of How I Met Your Mother, has been known to joke that the still-unrevealed mother on the show will turn out to be Hillary Clinton. 
He also recently told Us Weekly he'd love for Clinton to appear in a sequel to Forgetting Sarah Marshall (not an actual project). Clinton, it seems, was tickled by the offer, but is playing hardball. It's exactly the kind of negotiation we like to see from America's chief diplomat!