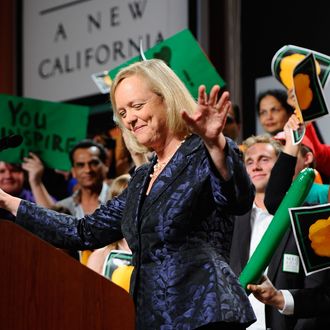 Meg Whitman.
Photo: Kevork Djansezian/2010 Getty Images
Hewlett-Packard reported on Wednesday a 31 percent decline in its second-quarter profit and a 3 percent decline in revenue compared with a year ago, and also announced a major restructuring plan that will shed about 27,000 workers over two years. Among the world's largest manufacturers of computers, printers, and related equipment, the Palo Alto, California–based company reported a net income of $1.6 billion, or 80 cents a share, for its second fiscal quarter ending on April 30. Over the same period last year, the company reported net income of $2.3 billion, or $1.07 a share. Despite the steep drop, those figures actually exceeded Wall Street expectations.
HP's Chief Executive Meg Whitman said layoffs "adversely impact people's lives, but in this case, they are absolutely critical to the long-term health of the company." She added, "This is broad based. By design, it will touch all of HP."
The company employs about 300,000 nationwide — about as many people as the entire populations of Pittsburgh or Cincinnati. The 27,000 that HP will let go amounts to about 8 percent of its workforce. Whitman said a third of the layoffs would be in the U.S.
The company hopes the trimming will spark growth and save up to $3.5 billion annually. Following the company's announcement, its shares rose almost 11 percent. Reuters and the Times report that Whitman plans to use the savings from the cost cuts to improve the efficiency of the company's sales force, and boost spending on research and development, especially in printing and personal computers. The company will make no changes to its ink cartridges, which will continue to ravage your wallet.