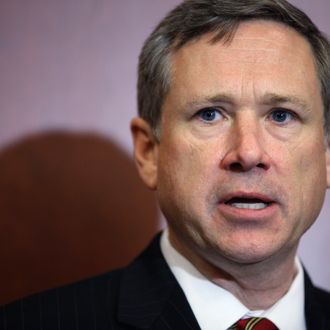 Senator Mark Kirk.
Photo: Chip Somodevilla/2011 Getty Images
With the jury in the John Edwards trial set to reach a verdict any day now, the nation is facing a serious campaign-finance-scandal deficit. Thankfully, we can always count on Illinois to supply new tales of alleged political treachery.

The Chicago Tribune reports that Republican Illinois Senator Mark Kirk — the serial liar elected to President Obama's former Senate seat following the Blagojevich scandal — has been accused of purposely hiding the fact that he paid his former live-in girlfriend more than $143,000 for her work on his campaign. In an interesting twist, the FEC complaint that brought the issue to light was filed by Kirk's ex-wife, who also received $40,000 from the campaign under questionable circumstances.
Dodie McCracken, Kirk's ex-girlfriend, works in public relations and her firm was hired during Kirk's 2010 Senate run. It's perfectly legal to hire lovers and relatives to do campaign work. The problem is that, for no apparent reason, the Kirk campaign paid McCraken and her firm through another company, and thus her name isn't mentioned in any of Kirk's federal disclosures. A Washington campaign finance lawyer tells the Tribune, "intentionally obscuring the actual payee of a campaign expenditure is a violation."

Kirk, who is said to be "mentally sharp" despite suffering a stroke in January, insisted via his campaign manager that he did nothing wrong. He called his ex-wife Kimberly Vertolli's FEC filing:
"A groundless complaint consisting of bitter personal attacks and is attempting to involve a federal agency in a divorce settled 36 months ago … We are saddened that she decided to file this ill-advised complaint and abuse the FEC process to air personal grievances."
Vertolli has spoken out against McCracken numerous times in the past. She's claimed that Kirk's relationship with McCracken was to blame for the end of their marriage, and during the campaign she told an interviewer that she couldn't support Kirk any longer because his girlfriend was a "negative influence on him," and a "Svengali figure in his life." Following this attack on McCracken, Vertolli was hired by the campaign to do legal research and stopped talking to the press. After the election was over, Kirk paid his ex-wife $40,000 via an "obscure corporate entity." However, Vertolli insists those hidden campaign payments were totally different from the hidden campaign payments received by McCracken.
While some experts say Kirk may be able to avoid a lawsuit, it's yet another interesting turn of events for the man who declared after taking over the office from Blagojevich's controversial appointee, "Today ends a sad chapter in Illinois history. Our state leaders tried to sell this seat and then they bought a special election to fill it, but the courts, the law and the people of Illinois won."