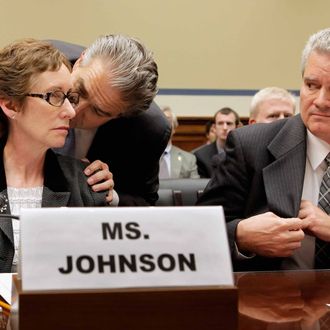 Neely.
Photo: Chip Somodevilla/Getty Images
Jeff Neely, the General Services Administration regional commissioner who planned the no-expense-spared $822,000 conference complete with a mind reader and very expensive food, is gone from the agency. The GSA, which handles administrative and management duties for the government, placed Neely on administrative leave after news broke about the absurdly lavish four-day Western Regions Conference in 2010. A GSA spokesman did not specify whether Neely resigned or was fired.

Neely was called to testify at a House Oversight hearing after the inspector general determined that the GSA wasted money and abused its power in planning a party intended to be "over the top." But through a letter by his attorney, Neely attempted to escape the questioning, citing his intention to invoke his Fifth Amendment right against self-incrimination. He ultimately appeared at the hearing and repeatedly invoked the Fifth (as promised!), a move that deeply bothered House Oversight and Government Reform Committee member Darrell Issa and others.
"Mr. Neely's conduct certainly diminished his ability to continue as a senior public servant," Issa said on Thursday."His decision to invoke the Fifth Amendment privilege has left many questions unanswered. In fact, the problems at GSA may far exceed his involvement in the waste of taxpayer dollars that has outraged Americans."
Communications show that Neely treated the event as if it were a party hosted by him and his wife. In an apparent personal e-mail, Neely wrote, "If you come we typically host a nice happy hour in my suite one night (with u and the boys as part of it). I know. I am bad. But as deb and I say often, why not enjoy it while we have it and while we can. Aint going to last forever," Neely said, referring to his wife.
Of course, the party was funded by Las Vegas taxpayers. "After some delay, Mr. Neely is rightfully no longer on the taxpayers' tab," said House Transportation and Infrastructure Committee Chairman John Mica, who will introduce a bill that subjects top government officials who refuse to cooperate with congressional investigations to immediate firing.

The agency's chief, Martha Johnson, resigned in early April. The Washington Post reports that two of her two top lieutenants were fired, and nine other employees were placed on administrative leave.
Now, officially, party's over …