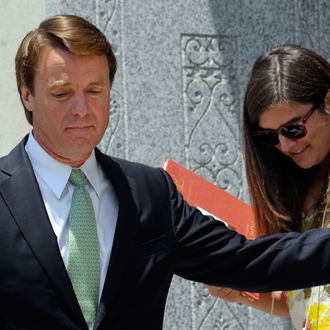 Photo: Sara D. Davis/Getty Images
The prosecution of John Edwards fell apart on Thursday as a jury found the former presidential candidate not guilty on one count of violating campaign finance laws, and deadlocked on five others after nine days of deliberations, forcing a mistrial. Edwards was charged with illegally soliciting and spending almost $1 million from two donors to hide his affair (and baby) with Rielle Hunter from voters and his cancer-stricken wife Elizabeth.
"While I do not believe I did anything illegal, or ever thought I was doing anything illegal," Edwards said outside of the courtroom, "I did an awful, awful lot that was wrong. And there is no one else responsible for my sins. None of the people who came to court and testified are responsible, nobody working for the government is responsible. I am responsible." Sounding like a true politician, he added, "I don't think God's through with me. I really believe he thinks there's still some good things I can do."

Edwards faced up to 30 years in prison and $1.5 million in fines for "knowingly and willfully" violating a 1971 campaign finance law. The jury reached the not-guilty verdict on count three, which involved taking donations in excess of the maximum from 101-year-old donor Rachel "Bunny" Mellon. A law enforcement official, speaking on the condition of anonymity, told the AP it's unlikely that the Justice Department will retry the case.
The trial, set in North Carolina, became a spectacle not only for its length and lurid subject matter, but for its four alternate jurors, dismissed yesterday, who dressed in matching T-shirts for days, while one reportedly flirted with Edwards. After more than a month-long trial, the whole thing ended in a big anticlimactic mess.
This post has been updated throughout.