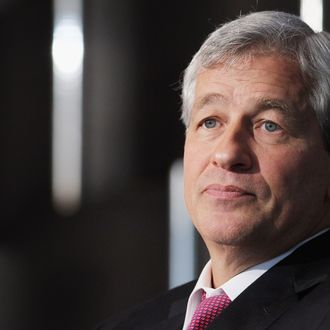 Photo: Mario Tama/Getty Images
At the bank's annual shareholders meeting today in Florida, 91.5 percent of JPMorgan Chase investors voted to approve the executive compensation plan that delivers $23 million to CEO Jamie Dimon and $14 million to resigning chief investment officer Ina Drew. Although most of the votes were likely already in by the time JPMorgan announced its jaw-dropping $2 billion loss, the exec support is up almost 20 percent since last year. A vote to strip Dimon of the chairman title fell short, receiving just 40 percent backing.
At the event, Dimon reiterated his remorse over the bets-gone-bad, calling the mistakes "self-inflicted," and insisting, "The buck always stops with me." The Justice Department, meanwhile, has opened a probe into the trading disaster, joining the SEC review already in progress.
"We heard the same refrain: We have learned from our mistakes. This will never be allowed to happen again," said Rev. Seamus Finn, a representative of shareholders from Missionary Oblates of Mary Immaculate who spoke up on Tuesday. "I can't help wondering if you are listening." Protesters reportedly did their part too, throwing eggs at pictures of Dimon.
But those hoping for actual changes will have to hold their breath a bit longer. Treasury Secretary Tim Geithner said regulators are "going to take a very careful look at this incident," while Obama pushed for financial reform this morning on The View, playing good cop and complimenting Dimon (a bit backhandedly). He's "one of the smartest bankers we got," the president said. "And they still lost $2 billion and counting."