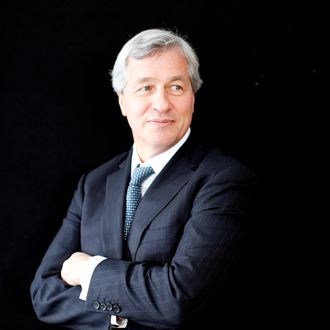 Dimon.
Photo: Simon Dawson/Bloomberg via Getty Images
Although JPMorgan CEO Jamie Dimon did not pin the "egregious and self-inflicted mistakes" that led to $2 billion in losses on any one person, warning signs about the big risks last month pointed to an easygoing trader named Bruno Michel Iksil, known playfully as "the London Whale." Iksil, also called "the White Whale" and "Voldemort" by wary counterparts, is a "low-profile" French trader working for the company's Chief Investment Office out of London, according to The Wall Street Journal. There, he prefers to wear black jeans without a tie, and has been making about $100 million a year working with credit-default swaps. But his huge gambles recently on corporate derivatives had hedge funds betting against him, with one Bank of America trader telling clients, "Fast money has smelt blood." Now that the bank is bleeding everywhere, it's largely on Iksil.
Despite his reputation as bearish in the past — "sometimes criticizing colleagues as too optimistic on markets," the Journal reported — the Whale turned way bullish lately, trading so hard that he may have single-handedly moved the index. The Whale's "big bets illuminate the risk inherent in hedge fund-style trading," said Senator Jeff Merkley last month, pointing to potential violations of the planned Volcker rule. At the time, Dimon insisted that chatter about the trading was a "tempest in a teapot," and that the deals were safe and by the book. "The CIO balances our risks," said CFO Doug Braunstein. "They hedge against downside risk, that's the nature of protecting that balance sheet." With his bets all over the news and his bosses well aware, the Whale was anything but a rogue trader.
Iksil reportedly stopped making trades in early April, but when the second-quarter losses were announced yesterday, all eyes went back to the Whale, who started at JPMorgan in 2005, according to the U.K. Financial Services Authority, and commutes to work from Paris. His personal Bloomberg profile noted that he is a "champion of 'kick it'" and "walking over water," but also "humble." He also supposedly likes to work from home on Fridays. With all the news about him swirling today, he might do well to stay inside.