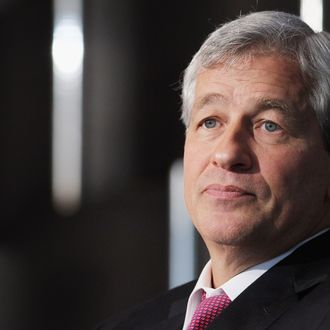 Gasp.
Photo: Mario Tama/Getty Images
The Wall Street Journal published a report by Monica Langley on Thursday in which she writes that according to people close to the JPMorgan Chase trading disaster, "Dimon personally approved the concept behind the disastrous trades." Langley continues, "But he didn't monitor how they were executed, triggering some resentment among other business chiefs who say the activities of their units are routinely and vigorously scrutinized."
Observers have speculated about Dimon's proximity to the deal gone bad, and how much knowledge he had of the losses as they widened. This behind-the-scenes account, which includes Dimon's confession to his wife that he "missed something bad," reveals that maybe the CEO bears more culpability for giving Chief Investment Officer Ina Drew and her group too much leeway, allowing the losses to deepen.

Here's how Journal sources say Dimon found out about the losses that could reach as much as $5 billion:

On April 30, associates who were gathered in a conference room handed Mr. Dimon summaries and analyses of the losses. But there were no details about the trades themselves. "I want to see the positions!" he barked, throwing down the papers, according to attendees. "Now! I want to see everything!"

When Mr. Dimon saw the numbers, these people say, he couldn't breathe.
Dimon's got his wind back but he has a lot more explaining to do: He agreed on Thursday to testify before Congress about the blunder.