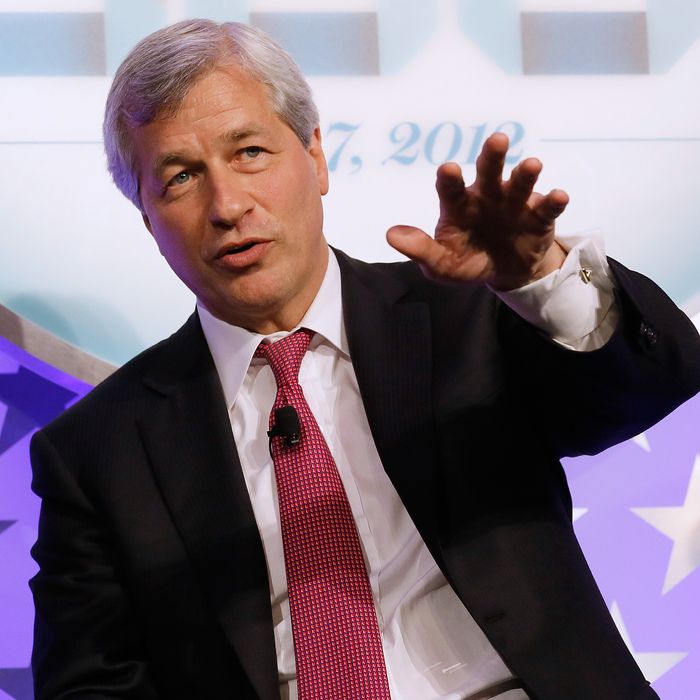 Photo: Jemal Countess/2012 Getty Images
The fallout from JPMorgan's $2 billion mistake is far from over, with chief investment officer Ina Drew officially out as of this morning, two other executives set to lose their jobs this week, and more losses potentially piling up. Although the company has been contrite, the chorus of critics is still growing, and Jamie Dimon admitted Sunday on Meet the Press that the company's unsuccessful bets "absolutely" embolden proponents of tighter regulation of Wall Street. Massachusetts Senate candidate Elizabeth Warren demanded that Dimon resign from the board of the Federal Reserve Bank of New York. "We need to stop the cycle of bankers taking on risky activities, getting bailed out by the taxpayers, then using their army of lobbyists to water down regulations," she said.
JPMorgan will have to answer more questions at its annual shareholders meeting on Tuesday, where investors will vote to approve 2011 pay packages for senior executives, including Dimon and Drew.
While many of the shareholder votes on pay were cast before the $2 billion bad news — though the vote is nonbinding — the gathering could still get uncomfortable. Dimon is slated to take home $23 million, while Drew is in line for $15.5 million. The Journal reports that the bank "could take actions in coming months to claw back compensation or reduce 2012 payouts."
With Drew and several other London-based executives gone, the heat remains on Dimon, who personally vouched for the safety of the trades last month.
Warren may be aiming at Dimon's position with the New York Fed for now, but her criticisms are more wide-reaching: "After the biggest financial crisis in generations, the American people are frustrated that Wall Street has still not been held accountable and does not appear to consider itself responsible," she said. Meanwhile, ABC News reports, "Some shareholders groups want Dimon's power to be reduced along with the appointment of an independent chairman."
Former TARP overseer Neil Barofsky noted that, unlike Dimon, Drew "didn't announce that it was a tempest in a teapot. We now know that the buck stops in London." A newly humbled Dimon insisted in a statement today that the company "is very strong and well capitalized," but it appears he's not done atoning for the bank's recent sins.
Update: A Bloomberg report today details Dimon's role in "transforming the once- conservative unit from a risk manager to a profit center. … Dimon pushed Drew's unit, which invests deposits the bank hasn't loaned, to seek profit by speculating on higher-yielding assets such as credit derivatives, according to five former executives."
And in a column at Slate, Eliot Spitzer has joined Warren in demanding that Dimon step down from the board of the New York Fed:
Dimon should resign from the New York Fed board immediately, acknowledging that his role is incompatible with what he has been trying to do in terms of lobbying and his abject failure as a manager to control risk within his own organization.

The Fed conflict is so obvious that it defies any possible rationalization or explanation. For a decade, the New York Fed has failed to pick up on any of the significant Wall Street threats: excess leverage, subprime fraud, dangerous concentration in "too big to fail" entities.  Maybe the reason is that the board is controlled by the very voices that have been at the root of the failure.