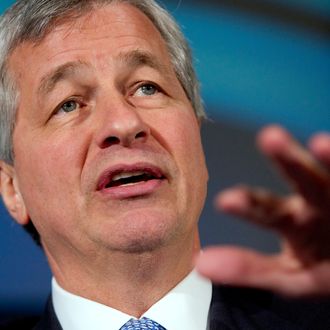 Photo: Andrew Harrer/Bloomberg via Getty Images
After shrugging off warning signs, JPMorgan CEO Jamie Dimon described the company's $2 billion loss as "a Risk 101 mistake." Who's responsible for such a costly, but elementary screw-up? Let's start with the bank's risk committee, which, as Bloomberg reports, includes "a museum head who sat on American International Group Inc.'s governance committee in 2008, the grandson of a billionaire and the chief executive officer of a company that makes flight controls and work boots." Also: Ruth Madoff, Charles Barkley, and those little girls who sang "Super Bass" on Ellen.
Those first three arguably unqualified people really are responsible for overseeing the bank's chief risk officer. It's a pretty cushy gig: For her work on the board, Ellen Futter, the president of the American Museum of Natural History, made $245,000 last year in cash and stock, and has taken out personal loans from the bank. Here's Bloomberg again, breaking that reality down:
What the risk committee of the biggest U.S. lender lacks, and what the five next largest competitors have, are directors who worked at a bank or as financial risk managers. The only member with any Wall Street experience, James Crown, hasn't been employed in the industry for more than 25 years. …

JPMorgan, with $1.13 trillion of deposits, is the only one of the six largest U.S. lenders that doesn't have a former banker, regulator or finance professor on its risk committee.
One expert, who we'll call Professor Obvious, recommends that the bank "put together a risk committee with more expertise in financial institutions and the risks produced by their decisions." Yeah, maybe they'll get around to that sometime soon.