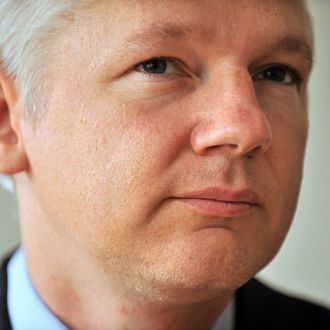 Photo: BEN STANSALL/2011 AFP
Britain's Supreme Court ruled today that increasingly irrelevant WikiLeaks founder Julian Assange can be extradited to Sweden to face sexual abuse allegations, but he's not quite done clinging to technicalities. Despite the court's conclusion that "the request for Mr. Assange's extradition has been lawfully made and his appeal against extradition is accordingly dismissed," his lawyer has two weeks to try again on the basis of a small legal point and can simultaneously appeal to the European court of human rights in Strasbourg. No matter what, Assange won't be on his way to Sweden until June 13 at the absolute earliest.
After yet another lost appeal in the case, Assange has been on house arrest in England for about a year and a half now, with little to show for it. Wikileaks has not published any substantial intelligence, making more news for its own financial problems than for leaks of any kind. Assange — who has not been charged in Sweden, but will eventually be met with sexual misconduct claims from two women — has spent his semi-free time pairing with the Kremlin news network RT (formerly Russia Today) for a largely ignored, Skype-happy talk show that's done little to repair his faltering reputation or generate much chatter at all. Worse than being viewed as a villain, for Assange, is being ignored entirely.