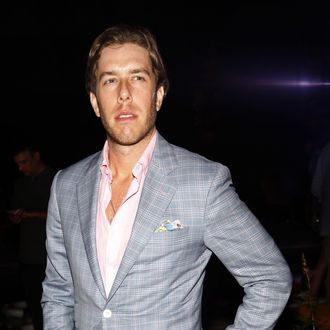 Photo: Adriel Reboh/PatrickMcMullan.com
When we checked in with Justin Ross Lee early last fall, he was embroiled in a very public bankruptcy. Now the 29-year-old has been given the New York Times Thursday "Styles" treatment for his success as a "social media monger."* (The failed business, a pocket-square operation called the Pretentious Pocket, is "back on its feet," or at least that's what Lee told a reporter.)
Like a shockingly high percentage of people who make their living at jobs containing the word "social" in them, Lee doesn't really seem to be a person whom people like, but he has made himself nearly impossible to look away from — far more important in his line of work. He is fully aware of this, and uses it to gin up publicity: like, say, the blog post he wrote about the "10 Most Hated People in New York Nightlife, " featuring himself at No. 3. Or, you know, profiles in the New York Times that gleefully revel in details like these:
He has been banned from a dozen venues around town for harassing doormen, teasing guests and acting out in other ways too. The restaurant Pastis even banned him several years ago for taking a table reserved for someone else.

"I snuck a peek at the reservation book and used a name that wasn't mine," Mr. Lee said.

His antics are not confined to New York or to land, for that matter. On a US Airways flight to Germany a few years ago, he neared arrest when he took a champagne bottle from his first-class cabin and went around serving it to coach passengers in his pajamas.
Lee gives good quote, too, making him all the more enticing of a subject for reporters interested in teasing out the current state of fameball-ism in America today.  "It helps in my drive to become a household name," he told the Times, which notes that Lee has acquired some 100,000 Facebook followers. "Recognition is the greatest thing in the world. I find it disgusting when people don't know who I am."
We almost don't need to type this, you surely already have guessed it: A production company is shopping around a reality-show reel on Lee's behalf.
* Update: Lee called us up to thank us effusively for the post ("The only bad press in this world is if you hate Jews or love little children, and I love Jews and hate little children!"), and also to clarify the age disparities we originally noted between a New York Post story last fall (which pegged him at 30) and today's Times report. He was born on 4/7/83, he noted, making him just barely 29, and offered to send over his intern with copies of his birth certificate, passport, driver's license, and flowers to prove it. We opted for e-mailed scans. Lee wouldn't care, he said — "Only a woman should care this much about their age!" — except that in order to get a production deal "you kinda have to be under 31." "I don't want this to be a Devorah Rose situation where everyone thinks you're like actually 35."
Previously: Justin Ross Lee: Almost an Absolutely Alliterative Asshole