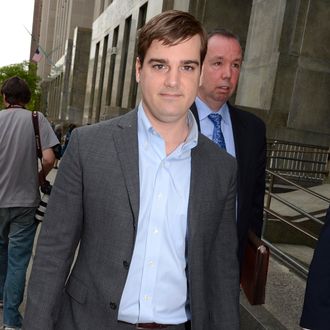 Photo: Steven Hirsch / Splash News
Karl Vanderwoude was home sick from work and taking a nap in his Park Slope apartment on April 12, when NYPD detectives knocked on his door and accused him of being the "well-dressed groper." The dapper serial attacker had become an instant tabloid fixture, but the 26-year-old said he hadn't heard of the case until he became its central figure. "I was a little out of it because I had just woken up when the cops came," Vanderwoude told Daily Intel last night, while taking a much-needed Florida vacation after the sexual-abuse charges against him were dropped this week. "They showed me the little security picture on their phone and asked if I knew who that person was." That was the beginning of his nightmare.
Vanderwoude told police he didn't recognize the man. He was then taken to the station for questioning, still unaware he was a suspect. "The interrogation room was a little weird," he said. "I've seen Law & Order — I knew something was off at that point." After flat-out denying the accusations, he was placed in a face-only lineup with five other men,  and said he was "relieved," thinking there was no way he'd be chosen. "They came back in and said, 'She picked you.' My heart sank."
In two more lineups, Vanderwoude found out later, one woman didn't select him, but another pulled his picture from a set of photos. The resemblance is there, but as Vanderwoude put it, "If someone saw a picture of themselves, they would know. I knew it was not me." Despite his protests, he was arrested and forced to spend the night in jail. "Did they just pick you right out of the office?" another inmate joked in the holding cell. "Something like that," he replied.
Released by a judge on his own recognizance to await trial, Vanderwoude spent the following days at a friend's place putting together his defense, while avoiding his Park Slope building, which was overrun by news crews. Reporters, Intel included, pored over his social-media profiles for any indications of perversion. "I was never worried that they were going to find something on my Facebook or on Twitter," he said, "but I will probably be a little more aware of what I post online in the future."
He was placed on leave at MVision Private Equity Advisers, where he still works as an operations coordinator, and the company helped him gather the e-mails and security footage that worked as alibis and eventually got the charges dropped. "It's comforting, kind of, knowing that as long as you're not doing anything you shouldn't be doing, it's probably on camera somewhere," he said. "It's ironic that one surveillance video led police to me, and another cleared my name."
Now that the rest of the world knows what he knew all along, Vanderwoude insists he's not bitter toward the reporters who stalked him, the district attorney, or even the anonymous tipster — someone who was close enough to him to provide all of his contact information and personal details to police. "I don't have any enemies, so I don't think whoever turned me in was trying to be vindictive," he said, sounding totally zen. "I believe they were trying to do what they thought they should do."
And as quickly as the press jumped on his arrest — the Post, for one, called him a "goon" — Vanderwoude is also grateful that the media has reported with equal enthusiasm about his innocence, specifically latching onto the revelation that he hosts a weekly bible-study group at his apartment. "They've really made a big deal of that," he said laughing. "They'll really just take anything and run with it."