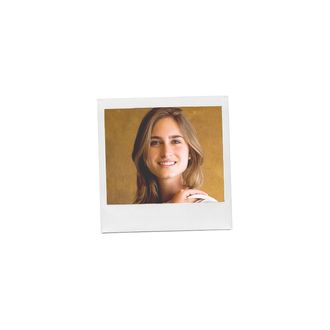 Photo: Courtesy of Lauren Bush
Name: Lauren Bush Lauren
Age: 27
Neighborhood: West Village
Occupation: Co-Founder of FEED. In celebration of the organization's fifth anniversary, they've partnered with Clarins for the Clarins Million Meals Concert for FEED May 30 at Lincoln Center, featuring John Legend and Natasha Bedingfield. The goal of the concert is to raise enough money in one evening to provide one million school meals.

Who's your favorite New Yorker, living or dead, real or fictional?
My husband, David. [Editor's note: Lauren, son of Ralph.]
What's the best meal you've eaten in New York?
The spaghetti primavera at Sette Mezzo on the Upper East Side is heaven.
 
In one sentence, what do you actually do all day in your job?
I get to create, design, market, sell, communicate, and ultimately give back; it is awesome.
 
What was your first job in New York?
I did data entry at the Council on Foreign Relations for one week; this was a few months after I graduated from Princeton.  Although the Council on Foreign Relations is an extremely impressive think tank, I am not very politically minded and it was not the job for me.
 
What's the last thing you saw on Broadway?
Gore Vidal's The Best Man, which was a play written in the sixties, but is still very relevant today. It also has a really all-star cast including the great James Earl Jones, so it was a treat to see him act!
 
Do you give money to panhandlers?
Usually: I'm a softy, especially when it is a woman with kids asking for help.
 
What's your drink?
Fresh beet, carrot, and ginger juice (made in my juicer at home), or red wine. Depends on the time of day.
 
How often do you prepare your own meals?
I cook about two nights a week, every Sunday night and one other weekday night. Although I cannot claim to be an accomplished chef, I really enjoy it.

What's your favorite medication?
Quantum Cold & Flu drops are miracle workers.
 
What's hanging above your sofa?
Old black-and-white pictures of classic movie scenes. My husband is a movie buff, and they are his additions.  
 
How much is too much to spend on a haircut?
That is really relative depending on how much of a cut you are looking for.

Which do you prefer, the old Times Square or the new Times Square?
I never knew the "old" Times Square, so I guess I prefer the "new"… but I generally try and avoid it altogether. The lights and the amount of people are overwhelming.
 
When's bedtime?
Generally midnight.
 
What do you think of Donald Trump?
I'm not sure, but I really like his daughter Ivanka, who is so super smart and beautiful.
 
What do you hate most about living in New York?
The lack of nature and good Tex Mex food like I was used to in Texas, where I grew up.
 
Who is your mortal enemy?
Factory farms, because I am a vegetarian and the thought of innocent animals being raised in poor conditions and then systematically slaughtered is just horrifying to me.  
 
When's the last time you drove a car?
A few weekends ago I drove my family's borrowed (and massive) SUV when I went home to visit my family in Houston, Texas. It was a little dicey.
 
How has the Wall Street crash affected you?
It has drastically contributed to the increase in hunger in the U.S. and abroad, making my work with FEED feel more urgent than ever.
 
Times, Post, or Daily News?
Times paper on the weekend; mostly online news sources during the week.
 
Where do you go to be alone?
Anywhere in NYC with my iPod plugged into my ears.
 
What makes someone a New Yorker?
A love for the city we live in and a spirit of resilience.