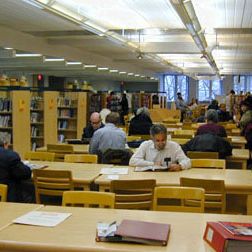 What the Brooklyn Heights Public Library looks like when people aren't being stabbed.
Photo: Brooklyn Public Library
Prior to today, if you had asked us to name the tamest, most unexciting place in New York, we would have said, "Oh, um, that's a weird question. But, probably, a library in Brooklyn Heights, maybe?" Little did we know that the Brooklyn Heights branch of the Brooklyn Public Library is a veritable Thunderdome, replete with porn-related chair-throwing and porn-related stabbings. 
The alleged attacker, Ralph Neptune, 46, who is homeless, was with his wife on the second floor at the Brooklyn Heights Branch of the Brooklyn Public Library when he spotted the racy videos on the 52-year-old victim's screen around 7:20 p.m., police sources said.

"He was with his wife and he accused the other guy of looking at porn," one police source said. "The guy looking at porn picked up a chair and hits him. The guy who was offended said, 'I have a knife,' and stabs him in the chest," the source continued.

Then Neptune's wife started screaming, "How are we going to get back to Peekskill?" the source said.
That's Mrs. Neptune for you, always keeping her eye on the ball when Ralph gets sidetracked with an impromptu stabbing. They're a good pair.