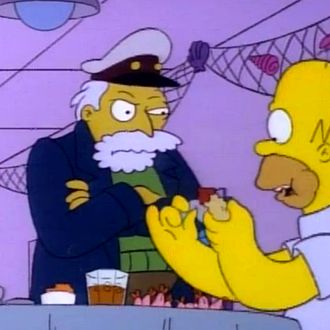 Bill Wisth was promised all the fish he could eat. Then things went very, very wrong:
>
An angry Mequon man is planning on picketing a family-run Thiensville restaurant every weekend because of what he calls false advertising for their Friday night fish fries.

Bill Wisth says he was with a friend eating at Chuck's Place on Friday and wanted another helping of fish. He claims the restaurant only brought over a few, little pieces and said they had run out.  Wisth then says he refused to pay the bill because he was still hungry and didn't get what he ordered.

"If the people who run the restaurant put up signs that say all you can eat, but then selectively not want to fill that promise, that's false advertising," says Wisth.

But the owner of Chuck's Place says Wisth had already eaten at least 20 pieces of fish and was sharing the food with his friend, which is not allowed under the all you can eat deal.
Does this sound like the actions of a man who had "all he could eat"?
h/t Nathan Pippenger.
Simpsons episode reference here.