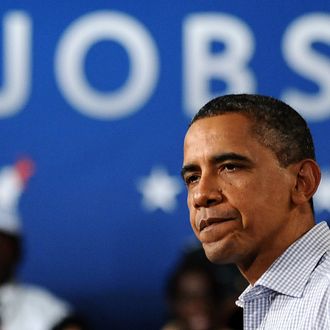 Photo: Jewel Samad/AFP/Getty Images
Ninety-nine weeks of unemployment benefits is but a myth in a growing number of states across the U.S. From January through May, about 409,000 Americans in 27 states lost out on at least a few weeks of extended benefits payments, and many of those individuals live in key battleground states including North Carolina, Pennsylvania, Ohio, Colorado, and Florida. Will these voters make Obama or Romney pay for their lost checks?

In February, the federal government renewed unemployment benefit programs through the end of the year that together with state funds would provide the long-term unemployed with ninety-nine weeks of checks. The New York Times reports that Congress attached attached some strings, including a three-year "lookback" requirement that cuts off federal benefits if a state's unemployment steadies over three years, or doesn't spike more than 10 percent over any of the three previous years. Tough luck for the roughly 95,000 long-term unemployed persons who lost benefits this month in California, where the jobless rate is still about 11 percent.
North Carolina isn't faring much better right now with about 9.4 percent unemployment. That's only a percentage point lower than it was a year ago, but the slight improvement cut off 20,100 extended benefits recipients. Pennsylvania's unemployment rate is at roughly 7.6 percent, slightly below the national average, and 20,900 long-term unemployed also prematurely lost extended benefits in May. It's a similar story in Colorado, Ohio, and Florida.
Whether Mitt Romney can eventually articulate what about his business experience makes him suited to (better) repair the recovering economy remains to be seen. Nevertheless, he's promised that he can reduce the national unemployment rate to 6 percent after four years, perhaps lower. As for the unfortunate 6 percent that might include people out-of-work for a while? It's a bit foggy. Romney believes that jobless benefits incentivize laziness and discourage some people from taking jobs. He wrote in an op-ed in December 2010, "To remedy such problems we need a very different model, perhaps establishing individual unemployment savings accounts over which employees would exercise direct control when they lose their jobs, or putting in place financial incentives for employers to hire and train the long-term unemployed."
As for Obama, perhaps voters who feel like they've had the rug pulled out from under them will hold him accountable for signing the reduction in benefits as part of the payroll tax cut compromise. Or perhaps the the long-term unemployed simply want to go back to work and will vote on job creation alone.