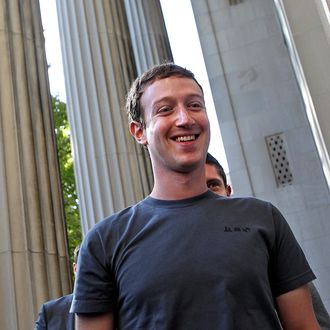 Zuckerberg, soothsayer of doom.
Photo: Splash News
As Facebook's stock price fell below $30 today for the first time, some of Mark Zuckerberg's worst fears are coming true.
Back in 2010, when Facebook was a mere Internet phenomenon (as opposed to the Universal Harbinger of All Capitalist Things, Good and Bad), bankers were already whispering in Zuckerberg's ear about the benefits of going public.
If Zuckerberg took Facebook public, advisers told him, early investors and venture capital firms would be able to cash out. Facebook could raise a slush fund to use for acquisitions. And the company could steer clear of the S.E.C.'s 500-shareholder limit, which would have forced it to reveal its financials anyway.
But despite the potential bonanza that awaited a public Facebook, Zuckerberg still didn't want to do it.
First, there were the downsides of life in any public company — the short-termism of public investors, the carping of the CNBC crowd when stocks fall, the endless lily-gilding public CEOs are forced to do to appease analysts and investors.
In a note posted on his site that year, Zuck outlined some of the reasons for holding off on an IPO:
I tend to think that being private is better for us right now because of some of the big risks we want to take in developing new products. For example, products like News Feed, Platform, Connect and so on were all fairly controversial early on but have proven to be valuable services. The experience of managing the company through launching controversial services is tricky, but I can only imagine it would be even more difficult if we had a public stock price bouncing around. There are a lot more new things left to build like the examples I mentioned above, and I'd rather focus on building them than on going public right now.
Today, it's clear that Zuckerberg was right to hesitate. As the company's shares have sunk, armchair bankers have had a field day. Early naysayers are crowing about their prescience. Beacon jokes and MF Global comparisons have been made.
Even advertisers like GM are apparently up in arms, complaining that Facebook won't let them customize the dimensions of their ads. According to Forbes:
As much as advertisers crave proof of return on investment, they also have the (perhaps not unreasonable) expectation that a platform with 900 million intensely engaged users ought to be able to serve as a venue for the kind of ambitious, resonant brand advertising that's possible on television or in glossy magazines.

"A lot of the questions or the skepticism could be coming from some of these bigger brands that are trying to look at Facebook as a branding tool, when in reality it might work better for some of these harder metrics," says Williamson.
Individual investors, too, are piling on. On Tuesday, The New York Times reported that Facebook's broken IPO had rattled confidence and scared mom-and-pop investors, like this California dairy farmer with an awesome last name, away from the stock market:
Robert Diepersloot, a dairy farmer in Madera, Calif., said that watching the Facebook offering confirmed all the fears and suspicions that led him earlier this year to take out the savings, in the five figures, that he and his wife had invested in stocks and stock mutual funds and move it into real estate investments.

"We just pulled out completely," Mr. Diepersloot said. "We've lost trust in the whole scenario."
Granted, 2010-model Zuckerberg probably couldn't have anticipated some of Facebook's wackier growing pains — the stupid hoodie debate, Nasdaq's massive botching of the initial trading hours, and the regulatory inquiries into whether the company's underwriters passed quiet guidance to select clients about downgraded expectations for the company.
But when it comes to the predictable woes of Facebook's public life — attacks on the company's corporate governance structure, braying from the peanut gallery about possible acquisitions and new products like a Facebook smartphone, a flood of awful headline puns about how the markets don't "like" the company — Zuckerberg's worries were right on the money.
Facebook had to hold an IPO despite Zuckerberg's fears — there were too many barriers to remaining private — and it will ultimately be glad it did. Shareholder pressure will force it to stake out new products and improve existing ones, and the stock price will stabilize eventually at a level that, while not as impressive as its IPO price, will at least quiet the Chicken Littles.
In the meantime, while it's tempting to ride Zuckerberg for his mishandling of his big day on Wall Street, it would be a grand mistake to accuse the nebbish newlywed of bringing Facebook's problems on himself.
Remember: The guy didn't even want to go public in the first place.