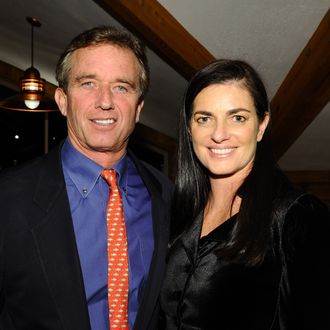 Mary and Robert in early 2010.
Photo: Michael Buckner/Getty Images
The Kennedy curse lives on. Mary Kennedy, the 52-year-old estranged wife of Robert F. Kennedy, Jr., was discovered at her home in Bedford, New York, on Thursday afternoon, dead from an apparent suicide. According to reports, Kennedy hanged herself in a garage or barn on the family's Westchester property. "We deeply regret the death of our beloved sister Mary, whose radiant and creative spirit will be sorely missed by those who loved her," a statement from her family reads. "Our heart goes out to her children who she loved without reservation."
Kennedy, 52, was the mother of four children between the ages of 11 and 17. "Mary was a genius at friendship, a tremendously gifted architect and a pioneer and relentless advocate of green design who enhanced her cutting edge, energy efficient creations with exquisite taste and style," said her family.
Robert and Mary separated after filing for divorce in 2010, but according to TMZ, they were still legally married at the time of Kennedy's death. In the months following the separation, Mary Kennedy was pulled over twice for driving under the influence.
"She always seems lost these days, whenever she came into the village," a neighbor told the Daily News. "Lost and alone and sort of out of it."
This post has been updated throughout.