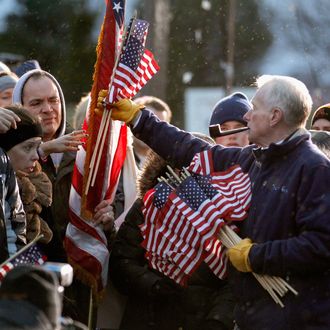 Jim Wilson in Des Moines.
Photo: Chip Somodevilla/2011 Getty Images
"[He] is frequently profane (cycling through jokes about weight, Viagra and Rogaine), smokes a pipe, carries a fish-skinning knife with a three-inch blade and dons an almost cartoonishly retro wardrobe of knee-high tube socks, bright white sneakers and Magnum, P.I.-era Tom Selleck beige shorts." That's Jim Wilson, profiled in today's New York Times, a near-septuagenarian former insurance salesman from Virginia who's been following the Romney campaign since last summer, driving 40,000 miles in his poster-festooned pickup truck. Mitt, make this man your chief stylist and speechwriter now.