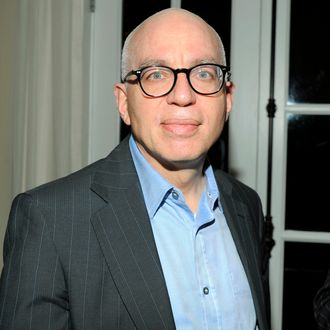 Last weekend, Michael Wolff was unable to bring his fresh-pressed juice into a movie theater, where he planned to watch Whit Stillman's new film, Damsels in Distress. Sure, he knew about the rule against bringing your own drinks to a movie theater, but it seems as if Michael Wolff might not be entirely convinced rules apply to him. "Besides," as he writes in a lengthy Guardian op-ed on the experience, "this was an art house in the East Village. The East Village — land of nut jobs and bad behavior! And we were seeing … a film about nuance and sensibility and modern ironies. This wasn't a corporate blockbuster in a soulless multiplex in an authoritarian mall." Whither society, if one can't bring his juice into an art house in the Village?
Well, society is mostly on the Internet these days, and so Wolff began tweeting furiously about the injustice of it all, after the police were called when he refused to give up the goop. (A sequel of sorts to his recent weekend of Fresh Direct complaints.) His "companion" told him not to mention the police's arrival — too embarrassing — but Wolff bulldozed right through that directive, "which turned out to be the hook that electrified the Twitter world," he wrote.
Indeed, in these circumstance, these minor breakdowns of the social compact, I have always tried hard not to say the thing every journalist can barely keep himself from saying: "Do you know who I am? I will write about this, and you, buster, will rue the day you looked cross-wise at me." I mostly succeed in not being this lame because I realize that, astoundingly, nobody cares about journalists (except journalists); and, also, that as a rule you never really do write about this stuff, anyway. Its timeliness is, to say the least, fleeting.

But not for Twitter. Twitter is an ideal medium for not only galvanizing tectonic political crusades, but for chronicling the daft and absurd, no matter how inconsequential. There are no editors to advise maturity and caution; it requires virtually no work; and it lets you publish simultaneously with your outrage and annoyance.
Wolff seems to have interpreted the attention his tantrum got as support. "For my companion, who was clearly ready to bolt throughout most of the incident, I suddenly, through the excitement of the Twitter crowd, became a figure of some wit and coolness," he wrote, and added that he plans to return this weekend — with both juice and Whit Stillman — to the theater for another try in service of his cause. We'll leave the last word with the woman whom we're guessing is the companion in question.