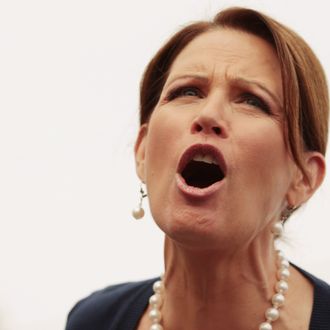 Yodeling?
Photo: Chip Somodevilla/2011 Getty Images
A prevailing fantasy among voters still hoping for a Howard Dean presidency is for Michele Bachmann's U.S. citizenship to be revoked, so that they in turn wouldn't have to move to Canada in the eventuality that she someday became president. None of those things have happened (breathe, Jon Stewart) but she HAS opened the door to running a "flawless campaign" somewhere other than America. Bachmann's husband Marcus recently applied for and now received Swiss citizenship, which makes her a dual citizen as well.
As a Swiss citizen, Bachmann belongs to something called a canton, and hers is the canton of Thurgau. We can't wait to hear her version of its history, in which, we assume, the founding battle of Thurgau was fought by the Vonn Trapp family, aided by General Swiss Miss. Anyway, for those keeping track at home, Barack Obama =  American citizen. Michele Bachmann, occasional birther = citizen of a country that doesn't even believe in war.