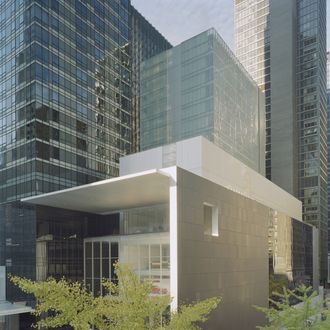 Probably nicer than your garage.
Photo: Courtesy of MoMA
Maybe you were thinking of throwing out that weird frisbee you got from a concert years ago, or selling that ugly vase your grandmother gave you on Craigslist. Instead, now you can take it to MoMA instead. For the previous two weekends, and two additional ones, the museum will be collecting "strange" items on behalf of the artist Martha Rosler. In November, Rosler will mount and sell an exhibition called the Meta-Monumental Garage Sale, at which she will probably pocket more than the average garage sale-r while turning that junk into art. (This is the kind of thing that only encourages hoarders.)
Almost anything's fair game, but no "weapons, or toxic or hazardous materials!"  So far it seems as if people are mostly using the chance to dump their old books, but per the Post, there's also been a porcelain artichoke dropped off, so … yeah, this doesn't sound any stranger than the average garage sale yet. But we're hopeful! Let your weird out, New York.