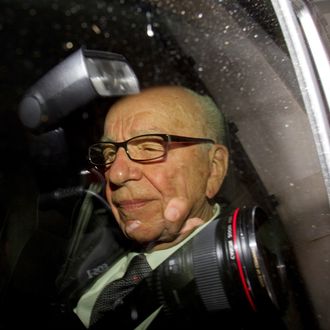 Photo: Bloomberg/2011 Bloomberg
Earlier today, a British Parliamentary committee charged with investigating top News Corp. executives' handling of the phone-hacking scandal had some extremely harsh words for Rupert Murdoch's stewardship, concluding that the octogenarian is "not a fit person to exercise the stewardship of major international company. " In a statement issued this afternoon, Rupert, essentially, begs to differ. Mistakes were made, sure, but that was a while ago! His statement, in part:
The report affords us a unique opportunity to reflect upon the mistakes we have made and further the course we have already completed to correct them.

I recognize that for all of us — myself in particular — it is difficult to read many of the report's findings. But we have done the most difficult part, which has been to take a long, hard and honest look at our past mistakes.

There is no easy way around this, but I am proud to say that we have been working hard to put things right.

We certainly should have acted more quickly and aggressively to uncover wrongdoing. We deeply regret what took place and have taken our share of responsibility for not rectifying the situation sooner.
Note that use of past tense on the question of responsibility-sharing. And Murdoch closes on a forward-looking note, with prominent use of the personal pronoun: "I will look to each of you to help me ensure that News Corporation's next 60 years are more vital and successful than ever."
Meanwhile, while Mort Zuckerman hasn't personally issued a statement on Colin Myler, the Daily News editor who was also harshly reprimanded by the committee, a Daily News spokesman told the Guardian that "Mort Zuckerman has made it very clear that he fully supports Colin Myler. He believes he is doing a great job as editor of the Daily News."