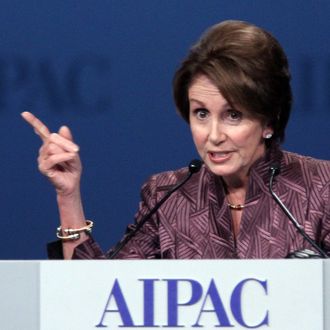 House Democratic Leader Nancy Pelosi(D-CA) speaks to the American Israel Public Affairs Committee (AIPAC) at their annual conference in Washington DC, March 5, 2012.
Photo: Chris Kleponis/AFP/Getty Images
"Well, I hope they're as successful with this campaign as the Cubs are on the baseball field." —Nancy Pelosi on TD Ameritrade founder Joe Ricketts's plan (or not?) to spend $10 million on ads focused on President Obama's ties to Reverend Jeremiah Wright. The Ricketts family owns the Cubs.