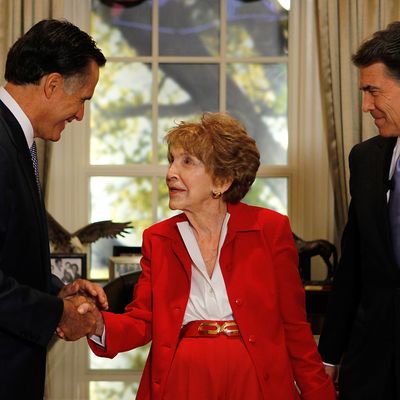 You know I don't do well with baked goods.
Photo: Pool/2011 Getty Images
Nancy Reagan's endorsement of Mitt Romney on Thursday did not come without a major obstacle: She served him cookies. Recall in April when voters in Pennsylvania served an award-winning baker's cookies to the Republican candidate, about which Romney observed, "They came from the, local, uh, 7-Eleven," before a horrified onlooker interrupted him. Nancy Reagan, 90, said of Romney in a statement, "Mitt and Ann Romney joined me at my home this afternoon for some lemonade and cookies and I offered my firm endorsement of his campaign for President." No word if he learned his lesson and quietly ate the cookies. Maybe he got the best of himself and told Nancy that he'd been served better lemonade by some youngster outside of his La Jolla vacation home.