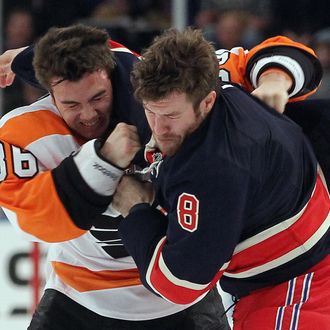 An approximation.
Photo: Bruce Bennett/Getty Images
The most jazzed account of the epic Roadhouse–style melee at the exclusive New York Athletic Club's Tap Room last month dubbed it "the best fight I've ever seen" — "Young people, old people, girls, members, non members, it was a nondiscriminatory ragematch." It was also intensely embarrassing for the 144-year-old institution, whose president reminded members in a strongly worded letter, "Distribution via the various social media of photographs and letters that are detrimental to the club and its reputation will not be tolerated. It is the responsibility of each and every member to protect and embellish the standing of the N.Y.A.C." The D.A. isn't helping.
The Post reports today that prosecutors aren't offering a plea deal to Colin Drowica, the broker who allegedly hit hardest, fracturing a man's eye socket. That could mean we're one step closer to a trial, which would bring us an onslaught of the ugly evidence. The tabloids must be salivating.
Considering the hush-hush nature of the Central Park South cohort, there's no word on Drowica's membership, or that of his fellow animals, but he can almost definitely put his $3,000 annual dues toward legal fees. And if the club wants to work some spin, might we suggest a pay-per-view special with the security footage?