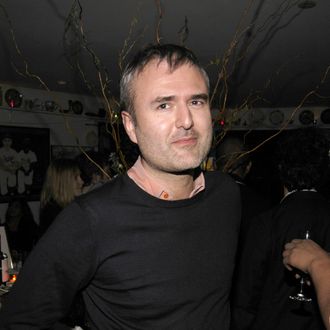 The cover story in New York this week is a portrait of Facebook founder Mark Zuckerberg, as told by Henry Blodget, the editor of Business Insider. On his website, which has frequently faced criticism for its aggregation practices (including once, an entire Wikipedia page), Blodget somewhat defiantly summarized his own article, inviting predictable mockery from Gawker. "The 6 Best Pages of Henry Blodget's 6-Page Article About Zuckerberg" features a few splashes of snark from writer Maureen O'Connor surrounding the entirety of Blodget's New York piece on Zuckerberg as meta-commentary. A solid joke for those who get it! But the real fun is below, in the comments, where cold-blooded blog overlord Nick Denton criticizes the post publicly, and his staff takes turns responding.
So, yes, this post could be titled, "Parsing the Comments on Gawker's Aggregation of Henry Blodget's Aggregation of Henry Blodget's New York Magazine Story on Facebook's Mark Zuckerberg."
Eager to highlight the advantages of his revamped commenting system and follow through on "a stated mission of exposing internal communication to the readership," Denton writes:
That Maureen thing on Blodget is intensely annoying. The worst side of Gawker and the worst side of new Gawker. Did you read the original piece? I did. It's fucking fantastic. Best thing I've read about building a business — well, actually, way more than a business — in years. And we reduce the whole thing to some obscure joke that isn't even funny.
He also adds caustic bits like, "Gawker so often chooses the shallow option," and "Henry Blodget does occasionally have a new idea. If you're making a point about aggregation or the emptiness of modern journalism, he's far from the best target. Try Huffpo — or Gawker writers whose souls have been corroded by irony." What follows is a bunch of random commenters weighing in on the state of Gawker (yawn), plus the post's author gamely defending herself with a shrug. Gawker editor A.J. Daulerio adds, to his boss:
You're over-thinking this way too much. I know you hate irony, but I like it. Sometimes others like it. It is what it is. It's pretty silly to compare this one piece as to some systemic problem with Gawker writers as a whole — sorry, "new" Gawker — because for the most part, irony across the site has been greatly reduced. Sometimes it still creeps out of these writers because remember we're all hateful, spiteful people forced to wake up everyday to a demanding job that now forces us to interact in the commenting system and justify our reasons for why things are funny.
The rabbit hole of radical blogging transparency goes much deeper, and at the bottom, half of Gawker Media is sitting around a campfire examining one another's navels. But for those who can care, Denton's own identification with Mark Zuckerberg (and to a lesser degree, Blodget) as an Internet entrepreneur emerges in a revealing way through his reading of the Zuckerberg story — he pulls out themes like, "Ruthlessness, readiness to learn, consistency, messianic zeal" as his writers giggle at him. "Zuckerberg is way too interesting to be left to tech or business writers," he writes. "As Blodget makes clear in the piece, Zuckerberg doesn't even see Facebook as a business but as a mission. It is a business only in so far as that's necessary to fund the mission." Between the lines of his staff scolding, Denton sounds defensive, but also oddly inspired.
Related: The Maturation of the Billionaire Boy-Man [NYM]