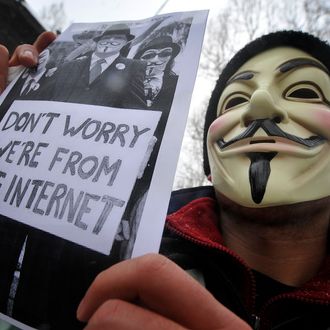 Sorry sir, we're going to need to see some ID.
Photo: HRVOJE POLAN/2012 AFP
Enjoy launching mean and unwarranted attacks against fellow Internet commenters today because the anonymous cyber-bullying free-for-all may be coming to an end for New Yorkers. Identical bills in both houses of the New York State Legislature would require all New York–based websites to "remove any comments posted on his or her website by an anonymous poster unless such anonymous poster agrees to attach his or her name to the post."

If the bill passes, websites would be required to provide a toll-free number or e-mail address where people could report cyber-bullying. After receiving a complaint, websites would need to contact the original commenter and inform them that their post will be deleted if they don't identify themselves within 48 hours.
Republican Assemblyman Peter Lopez, who co-sponsored the bill, said the Internet is like the "wild west: almost anything goes" and the legislation is a step toward ensuring that we're "civilized as we conduct ourselves in the use of that resource." Supporters of the measure say that in addition to ending online harassment and preventing businesses from posting negative reviews for their competitors, it would elevate the level of political discourse online. Assemblyman Jim Conte, who also co-sponsored the legislation, explained:
While the world might be a better place if the comments sections on political website weren't filled with incoherent ramblings about Obama being a foreign-born secret Muslim, opponents say the legislation clearly violates the First Amendment. David Kravets remarks on Wired.com, "Had the Internet been around in the late 1700s, perhaps the anonymously written Federalist Papers would have to be taken down unless Alexander Hamilton, James Madison and John Jay revealed themselves." (More probably, the Federalist Papers wouldn't have been written at all because the Founding Fathers would be too busy watching videos of ladies in nothing but their night shifts).

The right to anonymously sound off online may not be as inviolate as we think. There have been numerous lawsuits filed against cyber-bullies, and just last month a Texas couple was awarded $13 million in a defamation suit against six online commenters. Apparently there's nothing in the First Amendment that protects your right to accuse innocent people of sex crimes on Topix.com.