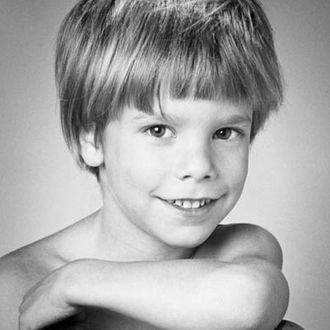 The NYPD has arrested Pedro Hernandez  and charged him with second-degree murder in the death of Etan Patz 33 years ago, almost to the day, according to the Times, following a day of speculation about his sudden confession. "We believe that this is the individual responsible for the crime," Police Commissioner Kelly said at a press conference Thursday evening. Hernandez is now in police custody and will be arraigned on Friday, reports NY1.
Hernandez worked in the Soho neighborhood where Patz was last seen walking to the school bus stop. One law enforcement official said that Hernandez had come up in connection with the case before, but it's not clear when police began focusing on him again. On Wednesday, NYPD investigators questioned Hernandez for several hours at the Camden County prosecutor's office in southern New Jersey, where Hernandez and many of his family members reside. Police took Hernandez into custody later on Wednesday and brought him to the office of the Manhattan District Attorney. Officials also brought Hernandez to the crime scene on Wednesday night, but it's unclear if they obtained any evidence to corroborate Hernandez's story. The Manhattan D.A.'s prosecutors are overseeing the joint inquiry by the  NYPD and FBI.

Kelly said that Hernandez told investigators during the marathon questioning that he lured Etan to the basement of a bodega where he worked at the time with the promise of a soda, the Times reports. Once Hernandez had Etan there, he choked the boy to death, stuffed his body into a plastic bag and left it in a nearby dumpster.

One official said that Hernandez was very emotional during his videotaped confession and broke down crying. "He was remorseful, and I think the detectives thought that it was a feeling of relief on his part," Kelly said. According to NY1, police have a written confession in addition to the videotaped admission.

The 1979 disappearance of Patz, then 6 years old, traumatized his Soho neighborhood and became one of New York City's most notorious unsolved crimes. The New York City District Attorney reopened the case in 2010, and in April, the FBI dug up a basement on Prince Street after a cadaver-sniffing dog indicated that a body might be buried there.
Speaking earlier on Thursday, Mayor Bloomberg expressed sympathy for Patz's family. "As a father, I just cannot imagine what they have gone through," Mr. Bloomberg said. "And I certainly hope we are one step closer to bringing them some measure of relief."
Jose Antonio Ramos, currently in jail for molesting another child, was previously considered the main suspect in the case; suspicion also swirled around former handyman Othneil Miller, who used the basement workspace and reportedly paid Etan $1 for helping him the night before the disappearance, though he was never officially a suspect.
The Post reports that a relative turned Hernandez in after police reopened the case this spring. Per their account, he'd confessed to killing a child (but not by name) during the eighties to both a family member and a "spiritual adviser." Kelly said that Hernandez told relatives, "I did a bad thing. I killed a kid in New York."
The buzz created by the dig on Spring Street last month may have prompted Hernandez's family members to come forward. "We can only hope these developments will bring some measure of peace to the family," Kelly said.
This post has been updated throughout.