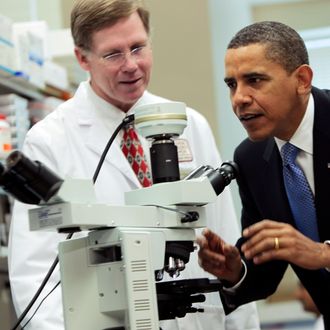 Who would you rather help out with your biology homework? (Aude Guerrucci-Pool/Getty Images)
Photo: Pool/2009 Getty Images
Why do conventional pollsters seem so obsessed with asking people questions that include the words deficit, economy, or entitlements? Boring! As if voters care about the issues. What voters really care about is just how cuddly a politician is, if they'd win at 40-and-over beer pong, and can they babysit the little ones while mommy and daddy get wasted on their biannual night of freedom. Well, the good people of Slate have partnered with SurveyMonkey to bring us a monthly political survey delving into just those super-important questions.
And it seems President Obama beats out Mitt Romney in virtually every scenario. Below are the top two choices for each question.
Who would you rather help change your flat tire? Barack Obama, then "neither."
Who would you rather hire as a babysitter? Barack Obama, then "neither."
Who would you rather have over for dinner? Barack Obama, then Mitt Romney.
But don't just blame this lopsided result on a too-liberal sampling. Of the 1,000 registered voters from 48 states (plus the District of Columbia) polled, more people disapproved than approved of the job Obama has done so far. Even so, 45.2 percent said they would vote for Obama if the election were today — if just to have the presidential babysitter option during the busy summer social season — compared to just 38.1 percent for Romney.