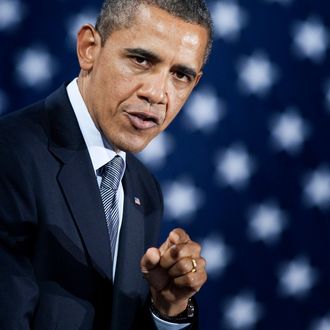 Wall Street is grounded.
Photo: Brendan Smialowski/AFP/Getty Images
"JPMorgan is one of the best-managed banks there is," President Obama told the hosts of the The View in an interview that will air on ABC at 11 a.m. ET on Tuesday. "Jamie Dimon, the head of it, is one of the smartest bankers we got." A Democrat heaping praise on Wall Street? In an election year? Then came the kicker: "And they still lost $2 billion and counting."
"You could have a bank that isn't as strong, isn't as profitable managing those same bets and we might have had to step in," Obama continued. "That's why Wall Street reform is so important."
Obama's backhanded praise for Dimon represents a new Mean Girls stage in the two men's relationship. It began as a bromance, with Dimon making sixteen White House visits and being dubbed "Obama's favorite banker" by the Times. Things went south when an increasingly populist Obama started bashing Wall Street "fat cats," and former JPMorgan Chase exec Bill Daley's reign as White House Chief of Staff ended after a year. Now Obama is fake-praising Dimon, but only as a means of highlighting the need for reform.

And reform may be coming. On Monday, lawmakers from both sides of the aisle called for hearings regarding JPMorgan's supersize trading loss. 
JPMorgan is bracing for impact as the bank continues its own internal investigation. "Our top priority right now is to respond as quickly as we can to inquiries and try to explain as much as we know right now," said a senior executive at JPMorgan, who added that the bank will not lobby the issue. So the bank will lay low now that the president and lawmakers have a stock of ammunition should they seek to implement new regulations or more vigorously enforce the Dodd-Frank law. Obama spokesman Jay Carney illuminated the president's feelings on that:
"Ever since it's passed, there's been millions and millions of dollars spent by Wall Street lobbyists to try to water down, delay and render ineffective the rules that need to be put into place. The President has fought back. And I think that this event merely reinforces why the President was right to take on this fight and why we still need to make sure it's implemented."
Regulators will discuss in a regularly scheduled meeting on Tuesday the unfinished Volcker Rule (mandated by Dodd-Frank) which bans banks from making speculative bets with firm money. An October draft of the rule included an exemption for trades intended to hedge risk. It's unclear whether the failed JPMorgan trades would have violated the Volcker Rule in its current form.

Meanwhile JPMorgan shareholders will meet for the company's annual meeting in Tampa, Florida, on Tuesday for what's sure to be a gloomy affair. Major shareholder CalPERS will call Dimon to be stripped of his job as chairman. "CalPERS believes if the chairman was independent the board may be able to exercise stronger oversight of management," it said in a statement ahead of the meeting.