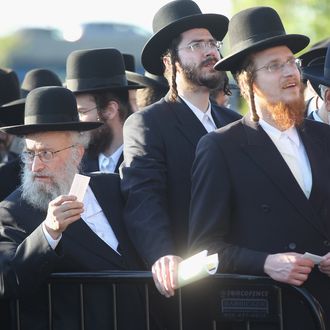 Photo: Mario Tama/Getty Images
On Sunday evening, Citi Field was packed not for baseball, but for the much anticipated ultra-Orthodox Jewish rally against the evils of technology, which gained buzz among both skeptical, plugged-in nonbelievers and the black-clad faithful. Not only did the ball field sell out — and with men only! — but neighboring Arthur Ashe Stadium held the overflow, while women reportedly watched at private viewing parties via online stream. It was a hot ticket for curious reporters, too, but according to the New York Times, the anti-Internet speeches were also bootlegged: "several unauthorized streams appeared soon after the rally began."
Ostensibly the rally was about controlling the overwhelming temptations of the Internet, and the group that sponsored the event is affiliated with a company that just happens to provide a helpful fix: They sell censorship software.
A spokesman for the gathering told the AP that porn, gambling, and social media disrupt "our ability to pray uninterruptedly, to focus and to concentrate." He also shouted at the press, "The siren song of the Internet entices us! It brings out the worst of us!" But the Times reports that the rabbinical group Ichud Hakehillos Letohar Hamachane, which hosted the event, "is linked to a software company that sells Internet filtering software to Orthodox Jews," and attendees "were handed fliers that advertised services like a 'kosher GPS App' for iPhone and Android phones, which helps users locate synagogues and kosher restaurants." Synergy! Solutions!
It's practical, really, considering that even those who attended the rally admitted that they're dependent on technology. "Everyone needs e-mail," one man told the Times.
But even some ultra-Orthodox Jews were dubious, hosting a counter-protest outside declaring, "The Internet Is Not the Problem," and hoping to draw attention to the community's sexual-abuse issues. Deborah Feldman, the author of Unorthodox: The Scandalous Rejection of my Hasidic Roots, was among those parked outside and carried a sign that said, "The Internet Never Molested Me." But just in case, there's apparently an app for that.