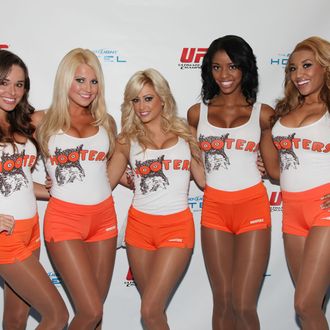 Photo: Alexander Tamargo/Getty
Brooklyn residents have long been worried about what kind of change the Atlantic Yards project will bring to their neighborhood, and now, with the unveiling of the Brooklyn Nets' new logo making the team's impending move feel less theoretical, that change is lumbering ever nearer. Perhaps that's why Park Slope and Prospect Heights residents have been so upset over Hooters' thus far unsuccessful efforts to get a franchise location within walking distance of the Nets' arena.
As the Daily News reports, though the chain has had two attempted deals with large property owners fall through, for spots on Flatbush Avenue and the stretch between Atlantic Avenue and Grand Army Plaza, Slopers and Heightsers are still worried. They're spending sleepless nights worried about it, even.
"Hooters has been trying to come into this neighborhood, and twice they were rejected by the largest property owners in the district," said Sharon Davidson, the executive director of the North Flatbush Business Improvement District. […]

To "stifle the rumors," she sent out a 3 a.m. tweet over the weekend, saying: "Absolutely no Hooters for North Flatbush Ave."
Another "local mom" added her two cents. "It's a disgusting national chain with bad beer and bad food," said Lee Skaife. So entrepreneurs, take note. Park Slope might just be open to a breastaurant if the beer is craft, the food is locally sourced, the owners are scrappy upstarts, and the uniforms are vintage-inspired.