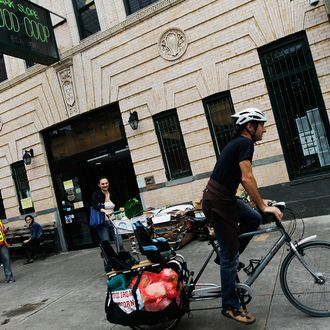 A less seedy part of the Slope.
Photo: Chris Hondros/Getty Images
According to the Brooklyn Paper, the residents of Park Slope are up in arms about a seedy side alley, near the Key Foods at Fifth Avenue and Baltic Street, where neighbors have come upon "dozens of condom wrappers, a dilapidated mattress, and even couples mid-romp on Gregory Place, a narrow, seldom-used street behind the shop." Do those neighbors look kindly on young love? Well, no, mostly because it sounds more depressing and sad than excitingly illicit; one neighbor, Denise Morales, told the Brooklyn Paper she's seen people shooting up back there.
Still, not everyone's repulsed by the block. L Magazine named it the "Best Block to Smoke a Joint" not so long ago, lauding its community-building spirit: "You might see joint-toking teens pass a yuppie with a one-hitter walking his dog." But those Park Slopers probably aren't charmed by that less menacing description, either: P.S. 133 is moving a block away from the alley this fall, and the scene — even though it involves more weed than anything harder — can't sound great to the school's parents.