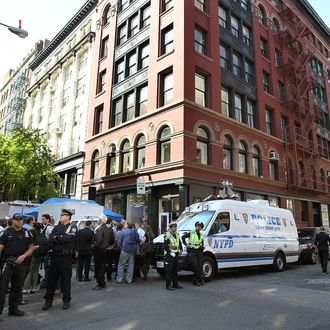 NYPD and FBI investigators searched the basement of a building in SoHo on April 19, 2012 for evidence of Etan Patz.
Photo: Justin Sullivan/2012 Getty Images
On Thursday, a mystery that has haunted New Yorkers for 33 years drew closer to a resolution when police arrested 51-year-old Pedro Hernandez and charged him with second-degree murder for the killing of 6-year-old Etan Patz. Police say they have both a videotaped and a handwritten confession, but in the hours since Hernandez's arrest, more questions have emerged: What motive could Hernandez have had, and why did he suddenly admit to the crime?
When Patz disappeared in 1979, Hernandez was 18 and lived in a small apartment on West Broadway in a much grittier version of Soho. The New York Times reports that he worked as a stock clerk in a bodega near where the Patz family lived, which locals say was "grimy" and rumored to hold cockfights in the basement. Shortly after Etan went missing, Hernandez moved back to southern New Jersey, where many of his relatives lived. He worked in construction, but went on disability in 1993 following a back injury. About five years ago, Hernandez settled in Maple Shade, New Jersey, with his wife and teenage daughter.

As is often the case, Hernandez's neighbors say he was quiet and unremarkable and are shocked that he's been charged in one of New York's most notorious unsolved crimes. For the most part, Hernandez kept to himself, but 71-year-old Dan Wollick, who rents the front half of the home Hernandez lives in, tells the Times that he and Hernandez shared tasks like mowing the lawn, shoveling the driveway, and raking leaves. "They were good people, and he was a good neighbor," Wollick said. He'd attended some of the small parties Hernandez occasionally threw at the house for relatives and friends from their Pentecostal church. The only neighbor who mentioned something suspicious about Hernandez was Keith Lotierzo, who told Philly Burbs that he noticed he would park his car around the corner and walk to the house. "I'd tell him that if he was trying to avoid something like an impound, the tow truck driver was going to take the car anyway," Lotierzo said. "He just ignored me." Otherwise, neighbors said the most sinister thing about Hernandez was that he was constantly smoking.

Gilbert Lopez, Hernandez's brother-in-law said that he was, "A good family man. Quiet. Always nice," adding, "I can't believe all this is happening." Hernandez was one of about twelve children, and while Lopez was shocked by the news, other family members are credited with turning him in. The Wall Street Journal reports that earlier this month another brother-in-law told the authorities that Hernandez had talked about killing a child when he worked at the bodega. A sister and a pastor shared the same story with police. Though Police Commissioner Ray Kelly denied the claim at Thursday's press conference, an anonymous law enforcement source tells the Daily Beast that family members contacted police 33 years ago when Hernandez first confessed, but investigators ignored the tip because they "thought he was a nut."

There are still no clues to why anyone would hurt Etan Patz. Kelly said he still doesn't know what Hernandez's motive could have been. "They kept asking him, 'Why did you do this?'" a law enforcement official told the Times. "And he kept saying: 'I don't know. I don't know.'"