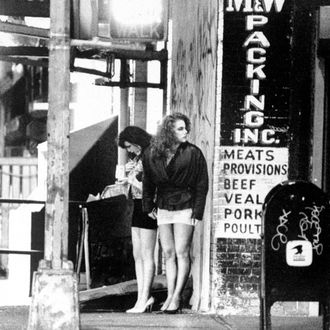 Photo: Norman Lono/NY Daily News Archive via Getty Images/Firstview
The NYPD's "fairer approach to prostitution" is called Operation Losing Proposition, and in the first three months of 2012, it has resulted in 90 arrests for patronizing a prostitute in Manhattan, compared to just 107 all of last year. Going after johns instead of sex workers is part of a larger "paradigm shift," the New York Times reports today, that also includes prosecuting pimps under a harsher, five-year-old state sex-trafficking law and more often, treating the women involved as victims.
"They basically live as slaves of the pimps," said Manhattan District Attorney Cyrus Vance Jr. "These are sad cases. These are women who need help." The law has resulted in 150 arrests since it was passed in 2007, including the father-and-son team accused last month of branding and beating the women who worked for them. There have been thirteen sex-trafficking convictions statewide under the statute, while 70 of the cases are still open.
But it's a slowly evolving work in progress, according to the director of the Human Trafficking Clinic: "We know what to do with criminals at 2 a.m. on a Friday night if we pick them up for selling sex. We have places to put them," she told the Times. "But what do you do at 2 a.m. if they are not a criminal? Where do you house them? How do you keep them safe? This is not easy stuff."