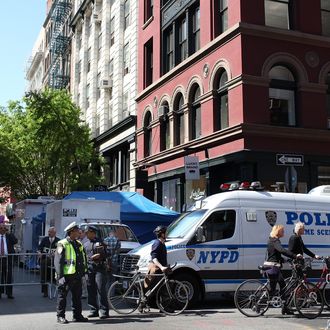 NYPD and FBI investigators search the basement of a SoHo building for evidence of Etan Patz in April.
Photo: Justin Sullivan/2012 Getty Images
While investigators are said to be increasingly confident that Pedro Hernandez was telling the truth when he confessed last week to the 1979 murder of 6-year-old Etan Patz, the lack of physical evidence in the case remains a concern. On Monday, investigators revealed that they're attempting to solve the problem by locating Patz's remains. That means tackling a seemingly impossible task:  Determining exactly where the contents of single dumpster were deposited 33 years ago.
Last week, Hernandez told police that he strangled Patz and placed his body in a plastic bag, then deposited his remains in a dumpster. Now another grisly detail about the crime has emerged. An unnamed law enforcement official tells the New York Post that Hernandez says he put the plastic bag containing Patz's body in a box, then hid it in a walk-in freezer in the basement of the Soho bodega where he worked. The source says he kept the box there until it was dark out and he could sneak it into a dumpster in an alley down the block.

Spokesman Vito Turso tells Reuters that the Department of Sanitation was "asked by NYPD if we had trash pickup and dumping records going back to 1979, which we do." But, authorities would need to plow through decades-old paperwork. "They are non-computerized and are archived," he added.

NBC 4 New York reports that if the dumpster was collected by city trucks, there's a chance it would have been transported via barge to the now-shuttered Fresh Kills landfill on Staten Island. The remains could have also ended up in an incinerator that was located near Gansevoort Street on the west side of Manhattan. The search could grow even more complicated if the bag was picked up by a private company. In that case, it could be in Fresh Kills, the former Fountain Avenue landfill in Brooklyn, or any number of private landfills in the area.

Turso says the Sanitation Department is awaiting further instructions from the NYPD and "will cooperate fully with their investigation" — if they decide to go forward with the search, that is. Sources say investigators are trying to get Hernandez to confirm other details to corroborate his story, such as describing what Patz was wearing on the day he disappeared or the layout of the walk-in freezer. That certainly sounds like a more efficient strategy than trying to find usable evidence in a 33-year-old trash bag.