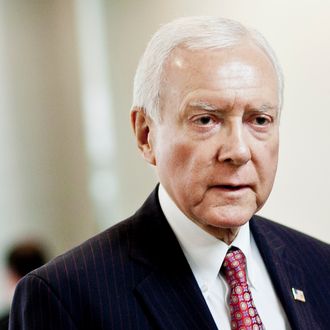 Photo: T.J. Kirkpatrick/2012 Getty Images
Senator Orrin Hatch has been getting praise recently for a largely forgotten achievement, but bizarrely, it could mean the end of his six-term Senate career. Former Utah state senator Dan Liljenquist has only cast himself as Hatch's Padawan learner because he wants to beat him in the state's Republican primary on June 26. Liljenquist is hoping that the tactics Hatch used to defeat his well-known, heavily favored Republican primary opponent back in 1976 (before the first Star Wars film was even released) will work again in 2012.

Six months before he took his Senate seat, Hatch seemingly came out of nowhere, took on the Republican party's Establishment candidate, and won, then went on to beat a Democratic incumbent. Now Liljenquist tells the New York Times that he's studying Hatch's first and only primary fight of the past 36 years. "When we look at 1976, there are a lot of parallels," he explained. "You have a country that was reeling from threats around the world. That's the same case now, and the economy, too, wasn't going particularly well."
Hatch's 1976 campaign was one of the first to challenge the party Establishment and start ushering in the Regan era, much like tea party–affiliated Republicans (like Liljenquist) are attempting to do now. In a campaign ad released this week, Liljenquist references Hatch's first campaign directly, noting that in that race Hatch challenged his opponent to eight debates. Liljenquist wants Hatch to do the same this time, but the senator has only agreed to one radio debate. As Hatch's team points out, he already did two debates before the Utah's convention in April. However, the message that Hatch is shying away from a televised showdown with his opponent is strong enough that one Liljenquist supporter is going on a hunger strike until Hatch agrees to more debates before the election.

While once the idea of Hatch being toppled by another Republican would have seemed far fetched, his defeat seems more possible with the recent primary defeat of Indiana Senator Richard Lugar. Voters who are longtime Hatch supporters are now considering mixing things up. Per the Times:
"I'm torn," said Richard McMillan, 73, a retired high school history teacher who said he had voted loyally for Mr. Hatch every six years and now is not sure what to do. "I don't dislike Hatch, but I kind of wish he'd go away gracefully and we could all applaud."
The dude who's only five years younger than Hatch is right. Old people need to clear out and make way for the young upstarts.