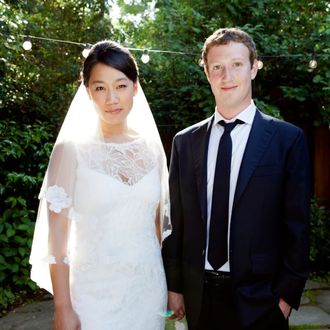 Most people, upon hearing that a man gave his wife a $25,000 ring, would think Wow, that's an expensive ring. Because it is! That's what Priscilla Chan's ruby-and-diamond sparkler is estimated to have cost, but since her husband is a billionaire, the dissection will be different. Naturally,  Post has labeled Mark Zuckerberg cheap for giving it, entirely ignoring the fact that maybe Chan had a role in the selection of the "itty-bitty," "cheapo" rock —which Zuckerberg designed for her —  and planning of her low-key wedding. Instead, the paper compared the Zuckerberg/Chan ring unfavorably to one exchanged by a couple that has come to represent all that is wrong with, well, everything,
Even 72-day bride Kim Kardashian got a $2 million engagement ring from groom Kris Humphries

And now, she has an anniversary that will always be overshadowed by her hubby's much-hyped and thoroughly disappointing IPO — the aftermath of which may or may not be the reason that the new bride was dining with friends rather than having been whisked away on a honeymoon.
To really drive the point home, the paper goes on to quote a leading cultural critic, Daily Mail commenter Marible. "That ring is UGLY! Who gives their wife a ruby? YUCK! He should have bought her a nice BIG diamond ring." 
Chan also, of course, had to go through a few extra hoops to maintain her pre-wedding privacy, prompting this analysis. "Most bridezillas would be spitting fire." People know bridezilla is not a complimentary description, right?