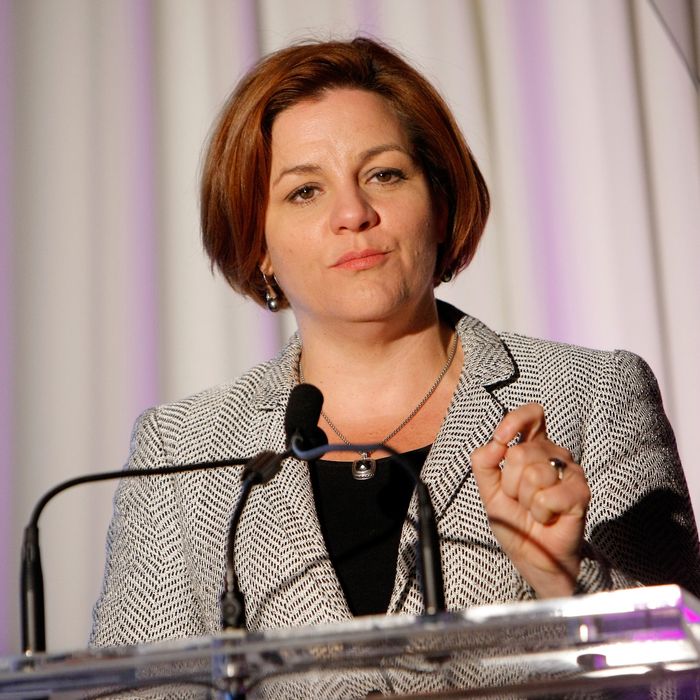 Photo: Jemal Countess/Getty Images
Greater respect and civility in public life are worthy goals. Given that we live in New York City, good luck making them happen, loser.
Yesterday City Council Speaker Christine Quinn bolted from her own rally after hearing someone in the crowd yell out an insult. It wasn't even a particularly original or crude insult — "Pharaoh Bloomberg!" — but it was enough to provoke a scolding from Quinn and then, when she didn't get the apology she demanded, a weird walkout. The surprised crowd murmured and booed. All this at an event that was supposed to be celebrating a policy and political triumph by Quinn. For a year she'd demanded changes in a proposed "living wage" bill, trying to balance the interests of labor unions (in favor), businesses (against), and the mayor (really, really against). The diluted bill, which will require some businesses receiving city subsidies to pay their workers higher salaries, was passed by the City Council, 44-5. The mayor has promised to veto it and sue if the council overrides the veto.
For Quinn, though, things are even more complicated. Her success as speaker has been founded on her ability to work with Bloomberg — disagreeing at times, but keeping it cordial and finding compromises. Yet her likely opponents in the 2013 Democratic mayoral primary will attempt to turn that relationship into Quinn's greatest weakness, emphasizing her role in tearing up term limits on Bloomberg's behalf.
Lately Quinn has been trying to open some more distance from the mayor — last week she issued a toughly worded statement after Bloomberg vetoed a related living-wage bill, and it seemed to be a preview of tactics to come, as she courts labor support for 2013. But Quinn is clearly conflicted. She knows that lurching away from the mayor now will look phony — plus, it would risk forfeiting his tacit backing next year. Establishing her independence while claiming a share of credit for what's gone well during the Bloomberg years was always going to be a fine line for Quinn to walk. Maybe the drawn-out haggling over living wage had left her on edge; perhaps the Ray Kelly–for-mayor talk has her spooked. But an abrupt exit, even in the name of good manners, is a strange way to show leadership.