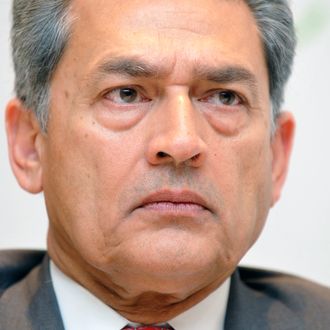 Photo: Bloomberg/2010 Bloomberg
The insider-trading trial of Rajat Gupta is under way, and convicted Galleon Group founder Raj Rajaratnam's executive assistant was first to testify for the prosecution. During her time on the stand, Caryn Eisenberg — described as wearing sequins, plus "an Hermès belt and leopard-print high heels" — said that her former boss was very particular about being disturbed at the beginning and end of the trading day, but that he made an exception for an exclusive list of close confidantes. Among them was Gupta, the accused former Goldman Sachs director, who was listed under the heading "important people" in Eisenberg's notebook, along with Rajeev Goel and Anil Kumor, both of whom have admitted to feeding Rajartnam secret info. (Also added later: orgasming inside-trader Danielle Chiesi.) Someone on that list, Eisenberg said, called urgently just before the market closed on September 23, 2008.
Although she said she couldn't identify the voice, Eisenberg recognized it as one of the important ones and told Rajaratnam. (According to phone records, Gupta called him at 3:54 p.m.) That happens to be the day that the Goldman board got word of Warren Buffett's $5 billion investment, and after the call, Eisenberg heard Galleon trader Gary Rosenbach say "buy Goldman Sachs," DealBook reports. Then, she said, Rajaratnam "was smiling more." Eisenberg, though, didn't hear about the Buffett business until the next day: "I went shopping at Bloomingdale's," she said.