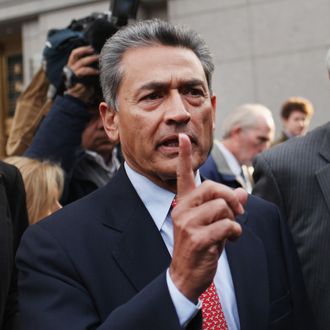 Photo: Spencer Platt/Getty Images
Prosecutors at the insider-trading trial of former Goldman Sachs and Procter & Gamble board member Rajat Gupta admitted in court today that he wasn't the only Goldman guy allegedly feeding tips to convicted hedge-funder Raj Rajaratnam. Although he has not been charged, a senior salesman named David Loeb is also suspected of giving Rajaratnam insider info, but just about Intel, Apple, and Hewlett-Packard, the prosecution claimed, not the secret Goldman dealings that Gupta is accused of sharing. Loeb, as previously reported, is under FBI investigation, and is expected to play a large part in Gupta's defense.
"There is no evidence, zero, none from the government and none from the defense in any way, shape or form that Mr. Loeb had access to material nonpublic information" about Warren Buffett's $5 billion investment in Goldman, which the government claims Gupta tipped to Rajaratnam, lawyers said today. The idea that he was just "roaming the halls of Goldman Sachs" gathering confidential intel, and therefore could've been the one leaking to Rajaratnam, is "just plainly absurd," the prosecution said.
During his testimony, former Goldman banker Byron Trott said the Buffett info was "as top secret as you can get," implying that only top executives could have known that afternoon in 2008, when Rajaratnam received his tip and bought a bunch of shares just before the trading day ended. Everyone privy to that information, Trott said, knew "never to talk about confidential information in public, or elevators. It was grounds for being fired."
But Gupta's team will have to show there's at least a possibility that someone else slipped. "We're going to have a lot to say about David Loeb," the defense threatened today. Hopefully at least some of it is about his preferred e-mail signature: "cbf," for "chunky but funky."