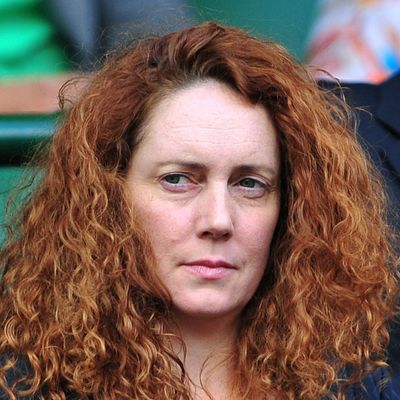 Photo: LEON NEAL/2011 AFP
After more than a year of investigation, including the arrests of 48 people, the first criminal charges have come down in the News Corp. hacking scandal. Rebekah Brooks, one of Rupert Murdoch's top lieutenants, along with her racehorse trainer husband and four others have been accused of perverting the course of justice by conspiring "to remove seven boxes of material from the archive of News International" and "to conceal documents, computers and other electronic equipment" from police in July of 2011.
In "the interests of transparency and accountability," the charges were announced in a televised statement in Britain on Tuesday. In response, Brooks and her husband let it be known, "We deplore this weak and unjust decision." News Corp. has so far been quiet.
Also charged in the probe are Brooks's personal assistant Cheryl Carter, her driver Paul Edwards, head of News International security Mark Hanna, and a News International security consultant Daryl Jorsling. As the Guardian notes, the maximum penalty for conspiracy to pervert the course of justice is life in prison, but the average sentence is ten months. A trial might not occur until early 2013.
Brooks, a former editor at Murdoch's News of the World and The Sun, and the chief executive at News International until the scandal blew up, had been arrested twice throughout the investigation. Last week, Brooks gave evidence to a parliamentary ethics inquiry, where she discussed her close, personal — and text message — relationship with British Prime Minister David Cameron. "Occasionally he would sign them LOL, 'lots of love,'" she said, "until I told him it meant 'laugh out loud.' Then he didn't use that anymore."
Her questionable coziness with the most powerful people in Britain can be seen as representative of the Murdoch way, and has been the focus of increased scrutiny as investigations continue not only into phone hacking, but bribery, e-mail hacking, police leaks, and more; authorities are now running five separate inquiries. Prosecutors, meanwhile, are still poring over four evidence files relating to those probes for potential prosecution, including twenty suspects. It is not yet known whether any of them are named Murdoch.
Update: In a defiant statement, a protective Brooks writes, "Although I understand the need for a thorough investigation, I am baffled by the decision to charge me. However I cannot express my anger enough that those close to me have unfairly been dragged into this." She adds, "I feel today is an attempt to use me and others as scapegoats, the effect of which is to ratchet up the pressure on my wife, who I believe is the subject of a witch hunt," and promises, "We will fight this in court."