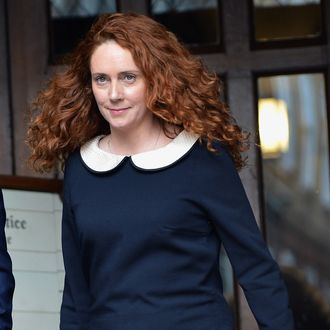 Rebekah Brooks leaves the High Court yesterday. (Christopher Furlong/Getty Images)
Photo: Christopher Furlong/2012 Getty Images
The fiery-haired Rebekah Brooks, formerly head of Rupert Murdoch's British newspaper division, appeared before the phone-hacking inquiry in London yesterday to respond to accusations that she and her boss were overly chummy with politicians. "Alternately serious, playful, indignant and lecturing," according to today's New York Times story, Brooks claimed that her only power was "readership power." She did, however, resort to some not-so-subtle name-dropping as well — like, for example, that of current Prime Minister David Cameron. 
Brooks noted that she and Cameron had met at least five times since he took office and that she had lobbied him about News Corp.'s since-scuttled bid for British satellite broadcaster BSkyB at a dinner she hosted at her home on December 23, 2010 — in a "not particularly forceful" manner, she hedged, and for no more than three minutes. The two were so close they were said to text each other at least twelve times a day, often signing off "with kisses."
"Occasionally he would sign them LOL — 'lots of love,'" Ms. Brooks told the Leveson Inquiry on media ethics and practices, speaking of Mr. Cameron's text messages to her when he was the leader of the opposition, "until I told him it meant 'laugh out loud.' Then he didn't use that anymore.
No wonder that Cameron felt the need to distance himself toute suite as the phone-hacking scandal quickly engulfed News of the World and Brooks. But later, afters Brooks's arrest, Cameron did send a message through an intermediary: "Sorry I couldn't have been as loyal to you as you have been to me, but [Labor Party leader] Ed Miliband has me on the run." He also texted her to "keep your head up." (Brooks confirmed the gist of both messages to the inquiry.)
Next up was former PM Gordon Brown, with whom Brooks had a considerably rockier relationship. However, she did meet with him at least five times while he was in office, and once at his home. Referring to Brown and his wife, Sarah, she told the inquiry that they remained close even after The Sun, which she previously edited, revealed that their son had cystic fibrosis.
After 2006, I continued to see them both regularly. They held a 40th birthday party for me. They attended my wedding. Sarah and I were good friends.
But all went south after The Sun published a harsh story about typos in a letter Brown had written to a dead soldier's mother and later put its weight behind his then-opponent David Cameron in protest of Brown's tepid handling of the war in Afghanistan.
Mrs Brooks said she had tried to warn Mr Brown about the switch but succeeded only in reaching [then-Business Secretary] Lord Mandelson, in a phone call in which he was reported to have called News International 'a bunch of c—-'. He later claimed he had said 'chumps'.
From that point on the few conversations between Brooks and the prime minister tended to be "incredibly aggressive and angry," she claimed, according to the Daily Mail.
And then there was Tony Blair who, like Cameron, sent condolences to Brooks after her fall from grace. The two had been quite the power duo, meeting no less than 30 times between 1998 and 2007, including several times alone. Brooks told the inquiry that she had been in "very frequent" contact with Blair on his No. 10 Downing Street landline. 
She also didn't deny rumors that Blair had been feeding her items critical of Brown — the two Labour heavyweights were sparring ever more publicly at the time. Still, this close friendship wasn't enough to spare Cheri Blair, the Prime Minister's wife, from what she considered "sexist" coverage of her weight by Murdoch papers.
None of Brooks's testimony appears to have been particularly incriminating, in line with Rupert Murdoch's assurances to the panel several weeks ago that there was nothing "sinister" about his ties to politicians. But she did unmask the longtime "you scratch my back and I'll scratch yours" relationship between politics and the press, as the Times hammers home.
By her account, when political leaders were not arranging birthday parties for her or meeting her for cozy private dinners or sending her notes or attending her wedding, she was picking up the phone to chat with them — or sometimes to cajole or strong-arm them into seeing things her way.

But even as she described all that, Ms. Brooks repeatedly declared that they did not have to listen to her if they did not want to, and that the British news media did not exert any special influence over politicians.
No, they did not have to listen. But they may have turned a blind eye, and that's precisely what the inquiry is so worried about.