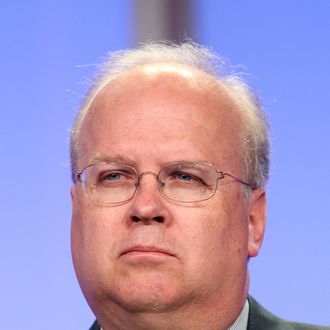 Photo: Frederick M. Brown/2008 Getty Images
The biggest political news story of the day is that the vast, mind-boggling sums that conservative millionaires have been planning to spend to elect Republicans will now be even more vast and mind-boggling than planned:
>
Republican super PACs and other outside groups shaped by a loose network of prominent conservatives — including Karl Rove, the Koch brothers and Tom Donohue of the U.S. Chamber of Commerce — plan to spend roughly $1 billion on November's elections for the White House and control of Congress.
The best detail in the story, by Mike Allen and Jim VandeHei, is that the Koch brothers alone plan to spend more than the entire McCain campaign raised in 2008. Meanwhile, the super-PACs supporting President Obama are scrounging for loose change in the sofa.
In some ways, this campaign is the flipside to the last Democratic presidential reelection campaign. In 1996, Bill Clinton (running against the backdrop of an accelerating recovery) cultivated wealthy soft money donors with presidential access, and generally avoided class-based attacks on the GOP, despite the fact that his opponents were running on a huge, regressive tax cut. The campaign created a sense of ennui and drift among liberals.
Obama's campaign is taking the opposite approach. There's little hand-holding of wealthy donors and plenty of sharp rhetoric against Republican plans to succor the rich, which turns off potential megadonors. John Heilemann's cover story this week has a lot of great detail about the unwillingness of liberal millionaires to pony up loot. The general factors at work are a lack of fear that Romney might win, a lack of fear over what Romney would do if he does win, and a lingering disdain for the grubby work of financing blunt 30-second political ads — a dainty attitude conservative billionaires decidedly do not share.