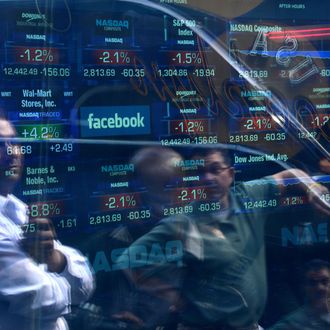 Photo: Emmanuel Dunand/AFP/Getty Images
Based on the opening IPO price of $38 per share, as has already been rubbed in your poor face today, Mark Zuckerberg almost instantly becomes $19 billion richer. As the stock fluctuates, that number swings in increments larger than the net worth of some small countries — as of 2 p.m., his 533,801,850 shares were up about 7 percent to over $40 each, bring that total to almost $22 billion. He's not alone, although let us be perfectly clear: Your average E*Trader is not cashing in on today's festivities. Zuckerberg's early investors on the other hand …
Take, for example, those making the most after Zuck: youngs like 27-year-old co-founder Dustin Moskovitz, whose 7.5 percent stake in the company is now worth over $5 billion, or more than $185 million for every year he's been alive. Thirty-year-old tax genius Eduardo Saverin is nearing $2 billion, while Napster dude Sean Parker, 33, is up closer to $3 billion. (Update: Elevation Partners, whose shares are worth more than $1.5 billion now, counts Bono among its investment team. Of course.) The Guardian has a full list that, as of this afternoon, also includes:
Facebook Director Peter Thiel: $1.35 billion
Facebook COO and ex-Googler Sheryl Sandberg: $77.9 million
Zynga co-founder Mark Pincus: $217.87 million
I know, right? In case you're not nauseous enough yet, there are companies winning too: Goldman Sachs stands to make $1.25 billion and Microsoft almost $300 million. Some of the lesser known faces and their big-dollar wins can be seen in this pretty chart, from the Facebook issue of New York. Now go invent something, or get to drinking.